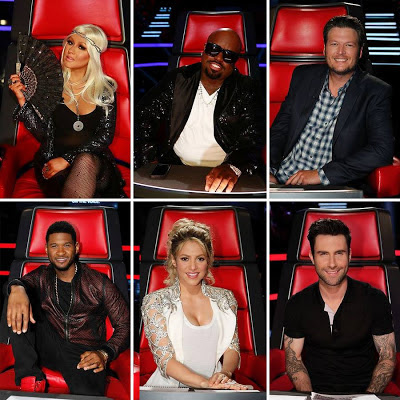 NBC's hugely successful series
The Voice
has announced the return of coaches
Christina Aguilera
and
Cee Lo Green
.
The pair, who took this season off to work on music projects, will rejoin the program for its fall 2013 run.
Shakira
and
Usher
are currently filling the coaches seats temporarily vacated by Aguilera and Green.
The rookie mentors will be back again for the fifth season of The Voice next winter, when the show will receive plenty of promotion during NBC's coverage of the February Winter Olympics from Sochi, Russia.
The current cycle of The Voice is averaging a 5.2 rating, 14 share in adults 18-49 and 14.5 million viewers overall on Monday nights, making it the season's #3 primetime series on ABC, CBS, NBC and Fox in adults 18-49, as well as the #2 entertainment series and the #1 reality series, according to "most current" results from Nielsen Media Research.
The Tuesday edition is averaging a 4.7/14 in 18-49 and 13.4 million viewers overall, making it the #4 entertainment series on in 18-49. Every telecast of "The Voice" so far this cycle, excluding recap episodes, has won its time period in adults 18-49.
Christina Aguilera
See also:
Shakira and Usher's first promo pictures for The Voice
Christina Aguilera and Blake Shelton perform duet on Ellen
Christina Aguilera tops the popmusiclife Pop 10
Christina Aguilera premieres Blank Page
Christina Aguilera performs on Hurricane Sandy telethon
Christina Aguilera performs Your Body with office supplies on Fallon
Christina Aguilera reveals Lotus album cover
Christina Aguilera releases video for Your Body
Lady Gaga raves about new Christina Aguilera single
Shakira, Usher to replace Christina Aguilera & Cee Lo Green on The Voice
Christina Aguilera teases Your Body video on The Voice
Christina Aguilera announces new album details
Christina Aguilera: New single due Friday, album this fall
Britney Spears & Christina Aguilera to appear at Madonna's L.A. concert
PHOTO: Christina Aguilera shooting new video
Green Day singer to mentor on The Voice
RUMOR: Christina Aguilera to release new single in August
Christina Aguilera tops the popmusiclife Pop 10 for 2nd week
Christina Aguilera tops the popmusiclife Pop 10
VIDEO: Christina Aguilera sings at Etta James' funeral
VIDEO: The Voice returns with Christina Aguilera, Cee Lo Green and more
VIDEO: Katy Perry spoofs Christina Aguilera on SNL