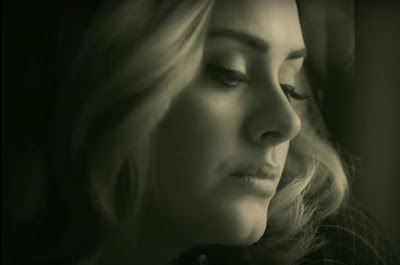 Adele
's smash hit single
"Hello"
tops the US charts for 5th straight week.
Billboard
reports the tune remains at No. 1 on the Billboard Hot 100 at the same time as the singer broke sales records with the release of "25."
"Hello"
also tops Streaming Songs for a fifth week with 35.5 million U.S. streams, up 2 percent, marking another new record: it's the first song to tally five weeks of at least 30 million domestic streams, passing
Baauer
's
"Harlem Shake"
, which did so for four weeks in 2013.
The hit also tops the Radio Songs charts as well as lists for Pop Songs, Adult Pop Songs, Adult Alternative and Adult Contemporary airplay.
The release of
"25"
also sees Hot 100 debuts for four other songs from the project including
"When We Were Young"
(No. 22),
"Water Under The Bridge"
(No. 70),
"Send My Love (To Your New Lover)"
(No. 79) and
"Remedy"
(No. 87).
"25"
became the first project to sell more than 3 million albums in a single week
with 3.38 million copies in total, according to Nielsen Music via Billboard.
See also:
Adele makes US history with over 3 million albums sold in one week
Adele scores biggest selling UK No. 1 album in history
Adele announces European tour
Adele sets new record for biggest sales week in US music history
Search Adele at popmusiclife