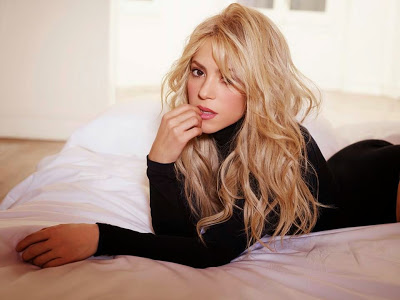 Shakira
will perform her newest single,
"La La La (Brazil 2014)"
featuring
Carlinhos Brown
, at the closing ceremony of the FIFA World Cup in Brazil on July 13.
This marks the third time
Shakira
will perform at the World Cup, making her the first artist to have three consecutive performances at the global event.
Her hit song
"Waka Waka"
was the last official song of the FIFA World Cup in 2010, and she performed her smash
"Hips Don't Lie"
at the 2006 FIFA World Cup in Berlin.
"I have an intricate relationship with football for obvious reasons,"
explains the singer,
"and I truly understand what the FIFA World Cup means to so many people, myself included - it has this innate ability to awaken a passion in us and bring together people of all races, ages and socioeconomic backgrounds."
"For me, the World Cup carries such a tremendous personal connection as well,"
she added. Shakira met her current partner, Spanish soccer player
Gerard Pique
, at the 2010 event; the couple have a 1-year old son, Milan.
"This will be my third consecutive FIFA World Cup performance, and the 2010 FIFA World Cup changed my life forever -- it's where I began the love story of my life, and now have my son Milan as a result,"
she contued.
"For all of those reasons, I just feel so grateful for the opportunity to come back to perform at the Closing Ceremony of this year's FIFA World Cup in Brazil, it feels right. The fans have shown the most incredible support for this song and I can't wait to perform it for them."
See also:
Shakira releases video for Dare (La La La)
Shakira releases new single, Empire
Shakira gives birth to baby boy
Shakira & Usher top the popmusiclife Pop 10
Shakira and Usher's first promo pictures for The Voice
Shakira sued by ex-boyfriend for $100 million