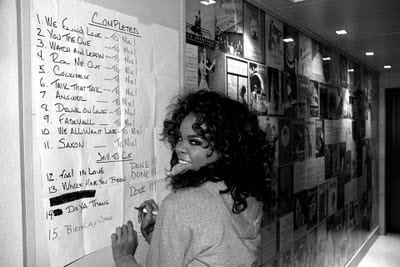 Rihanna
's been talking that talk, as she confirms a guest appearance by
Jay-Z
on the title track to her new album,
"Talk That Talk,"
due November 21.
"Yes sir! Jigga man is on the title track #TTT "
she
tweeted
on Tuesday.
Norwegian production team
Stargate
actually let the news out first, as reported by
Complex.com
.
Describing the collaboration as a
"mid-tempo banger with hard drums, dirty synths, and Rihanna and Jay at their best,"
Stargate producer
Tor Erik Hermansen
added,
"We are very happy with the song and Jay's verse is crazy—same with Rihanna's part."
Last weekend, the pop superstar revealed the album's song list on her Facebook page (see photo above), although the list was not in sequence. And, she was keeping a secret about the project, tweeting that there is
"one feature on the album. And we got the best."
Now we know!
Rihanna
Rihanna –

Umbrella (Orange Version) Ft. Jay-Z
See also:
VIDEO: Rihanna's band rehearses We Found Love
VIDEO: Rihanna Talk That Talk Countdown #5
VIDEO: Rihanna Talk That Talk Countdown - Day 4
VIDEO: Rihanna Talk That Talk Countdown - Day 3
VIDEO: Rihanna Talk That Talk Countdown - Day 2
VIDEO: Rihanna Talk That Talk Countdown - Day 1
Rihanna reveals Talk That Talk song list
Rihanna tops Billboard Hot 100
Rihanna, Coldplay top iTunes charts
AUDIO: Coldplay cover Rihanna's We Found Love
Hot new Rihanna video leaves Irish politician cold