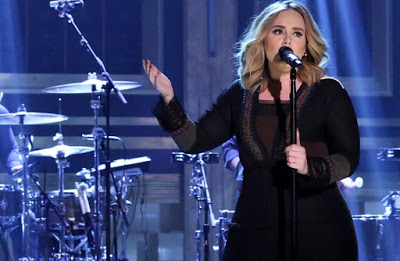 Adele
was a featured guest and performer on NBC's The Tonight Show starring Jimmy Fallon on Monday.
The UK singer joined the host for an interview segment and played "Box Of Lies" – a regular game/feature on the show – before performing
"Water Under The Bridge"
from
"25."
Adele
revealed that her first attempt at her third album was not met with positive vibes during a preview meeting with her manager and legendary producer
Rick Rubin
.
"They just weren't feeling it,"
explained
Adele
.
"Rick said 'I don't believe you.' He wasn't being mean. He was like, 'if you want to put this out you can put it out but I don't believe you.' And he was a huge part to do with my second album, '21.'

"I didn't love the record. It was songs, not the record. It was just some songs I was writing for this record."
Asked by Fallon if she rewrote or scrapped the songs they three weren't thrilled with,
Adele
said
"No, they're away, they're hiding; they've been banished. They're not allowed. They weren't good enough."
Produced by
Greg Kurstin, "25"
was launched with the lead single
"Hello"
, which became an instant worldwide smash.
See also:
Adele on track for biggest sales week in US music history
VIDEO: Adele performs on Saturday Night Live
Adele: 25 sells almost 1 million via US iTunes on opening day
Adele to perform on The Tonight Show
Search Adele at popmusiclife