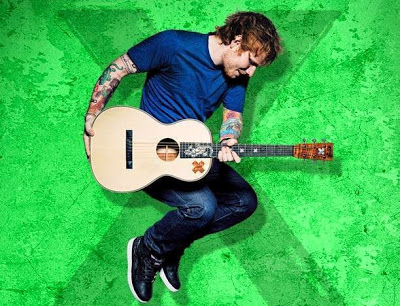 Ed Sheeran
will release an expanded version of his second album,
"X"
, complete with unreleased bonus tracks and a live DVD.
Due November 13,
"X – Wembley Edition"
will be issued digitally and as a two-disc CD/DVD package, with the video and album also offered as individual sets.
A number of bonus tracks and unreleased material are presented, including Sheeran's new single with
Rudimental
,
"Lay It All On Me (Feat. Ed Sheeran)."
Sheeran says the song is "the final thing I'm releasing for a while."
The 90-minute DVD feature,
"Ed Sheeran: Jumpers for Goalposts"
, captures the singer in concert earlier this year before almost a quarter million fans over three sold out nights at London's Wembley Stadium.
Since its 2014 release,
"X"
reached No. 1 on album charts in 14 countries around the world before achieving platinum sales in 18 countries including the United States and his native United Kingdom, where it was the biggest selling album of 2014.
With worldwide sale sof 10 million copies, the project delivered four consecutive platinum singles, including
"Sing," "Don't," "Photograph"
and
"Thinking Out Loud."
Sheeran will play his final live dates of 2015 with a series of shows in Australia and New Zealand starting in late November.
A full tracklisting for
"X – Wembley Edition"
can be found below.
Ed Sheeran
"X – Wembley Edition"
Release Date: November 13
PHYSICAL VERSION: DISC ONE
01. One
02. I'm A Mess
03. Sing
04. Don't
05. Nina
06. Photograph
07. Bloodstream
08. Tenerife Sea
09. Runaway
10. The Man
11. Thinking Out Loud
12. Afire Love
13. I See Fire *
14. All Of The Stars *
15. English Rose * †
16. Touch And Go * †
17. New York * †
18. Lay It All On Me (Rudimental Feat. Ed Sheeran) *
DIGITAL ALBUM
01. One
02. I'm A Mess
03. Sing
04. Don't
05. Nina
06. Photograph
07. Bloodstream
08. Tenerife Sea
09. Runaway
10. The Man
11. Thinking Out Loud
12. Afire Love
13. Take It Back *
14. Shirtsleeves *
15. Even My Dad Sometimes *
16. I See Fire *
17. All of The Stars *
18. English Rose * †
19. Touch and Go * †
20. New York * †
21. Make It Rain *
22. Lay It All On Me (Rudimental Feat. Ed Sheeran) *
* BONUS TRACK
† PREVIOUS UNRELEASED
ED SHEERAN - JUMPERS FOR GOALPOSTS TRACKLISTING
01. I'm A Mess
02. Lego House
03. Photograph
04. Bloodstream
05. Don't
06. I See Fire
07. Don't Go Breaking My Heart
08. Thinking Out Loud
09. The A Team
10. You Need Me, I Don't Need You
11. Sing
DVD & DIGITAL EXTRAS
12. Afire Love
13. Drunk
14. Tenerife Sea
15. Take It Back/Superstition
See also:
VIDEO: Ed Sheeran performs Photograph on The Voice season finale
Ed Sheeran premieres Photograph video
Ed Sheeran scores first US No. 1 album
Ed Sheeran premieres new song The Man
Search Ed Sheeran at popmusiclife