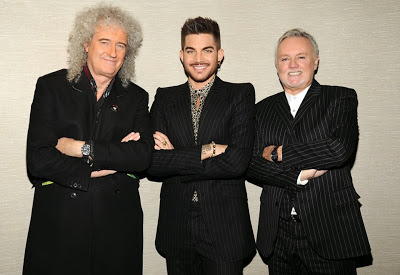 Queen and Adam Lambert
top the
popmusiclife Pop 10
.
Queen and Adam Lambert
are sharing video from this week's press conference where they announced a North American summer tour.
Check out all the details in this week's top story!
The
PP10
is a list of the most-viewed pop news stories in the past week by
popmusiclife
readers.
For a full list of the
popmusiclife Pop 10
charts, check out the archives
here
.
popmusiclife Pop 10
week ending March 9, 2014

01 – VIDEO: Queen and Adam Lambert North American tour press conference
02 – VIDEO: Justin Timberlake and Jimmy Fallon deliver History Of Rap Part 5
03 – Queen and Adam Lambert to make announcement next week
04 – Queen and Adam Lambert looking forward to North American tour
05 – REPORT: Christina Aguilera is pregnant
06 – George Michael reveals new album details
07 – Pink signs new multi-album record deal
08 – Katy Perry sets new US chart record
09 – Coldplay release first single from new album Ghost Stories
10 – VIDEO: Miley Cyrus kisses Katy Perry during Los Angeles show

See also:
Mar 02: Adam Lambert
Feb 23: Ed Sheeran
Feb 16: Ed Sheeran
Feb 09: Ed Sheeran
Jan 26: Adam Lambert
Jan 19: Adam Lambert
Jan 12: Adam Lambert
Jan 05: Adam Lambert
Dec 29: Rihanna
Dec 22: chart frozen
Dec 15: chart frozen
Dec 08: Rihanna
Dec 01: Rihanna
Nov 17: Rihanna
Nov 10: Selena Gomez
Nov 03: Lady Gaga