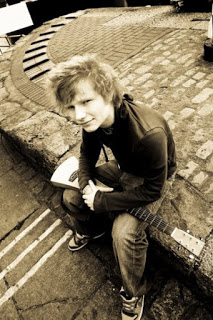 UK singer/songwriter
Ed Sheeran
continues to ride the success of his debut,
"+"
, but he's already revealing plans for his sophomore album.
"My second album has taken full shape recently,"
Sheeran tells
Noise11.com
.
"I don't know if there will be any collaborations on it yet. I have a name for it but I can't tell you the name just yet but it doesn't start with a letter".
Ed said the album has a release date of February 17, 2014.
He also revealed one song title:
"'Photograph', that will be the big one on the album,"
he said.
Don't expect to hear any new songs at his gigs.
"Coldplay do that and big bands can ease in new songs to their set but my fans are so viral that the moment that I'd play a new song every one of them would hear it,"
he said.
He wants his fans to hear the finished recordings when they are ready.
"They are on YouTube and Twitter and I think there should be some surprise. I don't want everyone knowing what the record is before they get it. I want them to listen to it first."
Ed Sheeran
See also:
Ed Sheeran performs on Jimmy Kimmel
VIDEO: One Direction perform Little Things with Ed Sheeran in New York