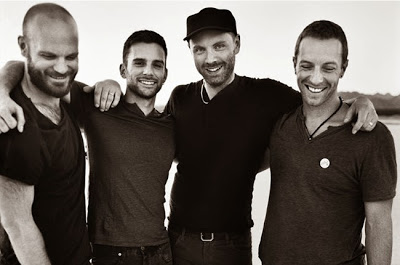 Coldplay
have released
"Magic"
as the lead single from their forthcoming album,
"Ghost Stories."
Due May 19 (May 20 in North America) and produced by
Jon Hopkins, "Ghost Stories"
is the band's sixth studio album and first since 2011's
"Mylo Xyloto."
The news follows last week's release of another new song,
"Midnight."
The track's video was directed by
Mary Wigmore
, the godmother of lead singer
Chris Martin
's daughter
Apple
– watch it
here
.
"Ghost Stories", "Magic"
and
"Midnight"
can be ordered via the Amazon links below.
Coldplay
will play a free show as part of the 2014 iTunes Festival during SXSW in Austin, Texas on March 11.
Coldplay
"Ghost Stories"

Release date: May 19 (May 20 in North America)
1. Always In My Head
2. Magic
3. Ink
4. True Love
5. Midnight
6. Another's Arms
7. Oceans
8. A Sky Full Of Stars
9. O
See also:
Coldplay release Midnight video
Coldplay release lyric video for new single, Atlas
Coldplay tops the popmusiclife Pop 10
Coldplay: New single featured on The Hunger Games: Catching Fire soundtrack
Coldplay tops the popmusiclife Pop 10 for 2nd week
Coldplay tops the popmusiclife Pop 10
Coldplay tops the popmusiclife Pop 10
Coldplay tops the popmusiclife Pop 10 for 2nd week
Coldplay album named favorite by BBC listeners
Coldplay tops the popmusiclife Pop 10
VIDEO: EPIX previews Coldplay Live 2012 concert special
VIDEO: Coldplay preview EPIX concert special
VIDEO: Rihanna, Coldplay and Jay-Z close Paralympics
VIDEO: Rihanna joins Coldplay in Paris
VIDEO: Coldplay rock American Idol
Coldplay to appear on American Idol
VIDEO: Coldplay rock Jimmy Kimmel's post-Oscars show
VIDEO: Coldplay – Charlie Brown
Rihanna to perform with Coldplay at the Grammys
Coldplay to earn $1.5 million for New Year's Eve show
Coldplay singer kicks fan off his property
Coldplay announce 2012 North American tour
VIDEO: Coldplay rock Jimmy Fallon
Spend New Year's Eve with Coldplay on Austin City Limits
Coldplay tops Billboard album chart
Rihanna, Coldplay top iTunes charts
Coldplay sets UK digital sales record
AUDIO: Coldplay cover Rihanna's We Found Love
NOW: Coldplay LIVE in concert
Coldplay and Kelly Clarkson lead today's new releases