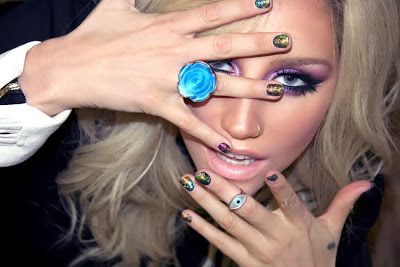 Kesha
is sharing her first update since entering a rehab facility earlier this month for an eating disorder.
A friend of the pop singer passed along news via Twitter.
"This is Kesha's friend," she wrote. "She asked me to tweet an update for her because she doesn't have access to twitter right now. She says 'THANK YOU. SOOO MUCH. I'm overwhelmed to tears by all of the love, letters, and support!! I'll be back soon and better than ever."
"ohhh and she can't believe Timber is still number one!," read the final tweet in the series. ""Fck YEAH animals! PARTY ON!!!!"
Kesha
's appearance on
Pitbull
's smash,
"Timber"
, remains at No. 1 on the Billboard Hot 100 singles chart for a second week.
Kesha
's next scheduled concert is set for February 13 in Dubai.
See also:
Kesha tops the popmusiclife Pop 10
Ke$ha releases Crazy Kids video ft. will.i.am
Kesha shares behind the scenes footage from C'Mon video
VIDEO: Kesha debuts new single on The X Factor
VIDEO: Kesha performs Die Young on Conan
Kesha reveals more tracks from Deconstructed EP
Kesha previews acoustic Deconstructed EP
Kesha tops the popmusiclife Pop 10
VIDEO: Kesha performs on The Today Show
Kesha: Behind the scenes of Die Young video
Kesha previews acoustic EP, Deconstructed
Kesha releases Die Young video
VIDEO: Kesha performs Die Young on X Factor Australia
Kesha checks in from set of Die Young video shoot
Kesha issues Die Young lyric video
Kesha to release new single next week, album in December
AUDIO: Kesha previews new song
Justin Bieber, Kesha up for PETA Awards
Kesha gets sleazier on new release
VIDEO: Kesha records Humane Society PSA to help street dogs