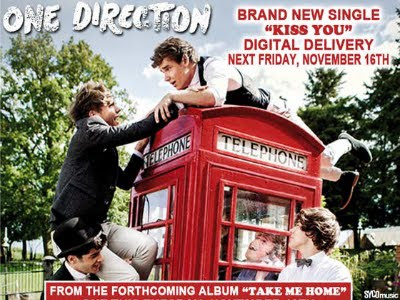 One Direction
will release their sophomore album,
"Take Me Home,"
on Tuesday.
The band began promoting the record with
"Live While We're Young,"
which went on to become the fastest selling pre-ordered single in history, hitting No. 1 in over 50 countries within hours of it going on sale last month.
Last week, One D issued a video for
"Little Things,"
which was preceded by plenty of teaser clips. Watch it
here
.
Now, according to an ad in music industry magazine
Billboard
, One D will release
"Kiss You"
as the second U.S. single from the project.
"Kiss You"
will be issued digitally on Friday, November 16.

One Direction
See also:
One Direction release video for Little Things
One Direction preview Little Things video
One Direction top the popmusiclife Pop 10
VIDEO: One Direction perform Live While We're Young unplugged
One Direction: Behind the scenes of Live While We're Young video
One Direction release Live While We're Young video following online leak
One Direction settle band name lawsuit
One Direction reveal new album cover, release date
One Direction reveal title of new album
One Direction film video for Live While We're Young
One Direction announce release date for new single
VIDEO: One Direction perform on Radio Disney
One Direction announce release date for new single
One Direction top the popmusiclife Pop 10 for 2nd week
One Direction announce 2013 tour
VIDEO: One Direction rock Saturday Night Live
One Direction top the popmusiclife Pop 10
VIDEO: One Direction rock Kid's Choice Awards
One Direction announce North American tour
One Direction makes US chart history with #1 debut