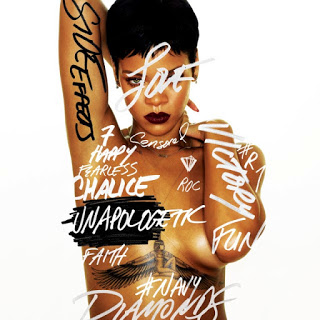 Rihanna
's latest album,
"Unapologetic,"
hit the 1-million mark in US sales this week, earning the singer her sixth million-selling album in the territory, according to Nielsen SoundScan.
Billboard
reports
"Unapologetic"
sold another 9,000 copies in the week ending May 26, bringing its to-date total to slightly more than 1 million.
The project, her seventh studio album, also became
Rihanna
's first No. 1 on the Billboard 200, following six earlier top 10 entries.
"Unapologetic"
fell from No. 33-39 on the chart this week.
Rihanna
's Diamonds World Tour is currently playing shows across Europe following its spring launch in the States.
Rihanna
See also:
VIDEO: Rihanna previews 777 Tour documentary
Rihanna: Weed found on tour bus crossing Canadian border
Rihanna: 777 tour documentary to premiere in May
PHOTO: Rihanna supports UK's Red Nose Day
VIDEO: Rihanna rehearses for Diamonds world tour
Rihanna releases video for Stay
Rihanna performs Stay at the Grammys
Bruno Mars teams up with Sting, Rihanna & more at the Grammys
Rihanna: Behind the scenes of River Island fashion collection
Rihanna to launch fashion collection next month
Rihanna brings Diamonds to The Voice finale
VIDEO: Rihanna performs at Victoria's Secret Fashion Show
Rihanna scores first U.S. No. 1 album
Rihanna reveals 777 tour details
VIDEO: Rihanna performs on Saturday Night Live
Rihanna premieres Diamonds video
Rihanna reveals track listing for Unapologetic
Rihanna announces 777 tour
Rihanna's new album, Unapologetic, out next month
Rihanna: Diamonds tops UK singles chart
Rihanna to premiere new single on Wednesday
Rihanna tops the popmusiclife Pop 10
Rihanna to release new single next week, album this fall
VIDEO: Rihanna, Coldplay and Jay-Z close Paralympics
Rihanna announces 2013 North American tour
Rihanna releases Cockiness remix ft. A$AP Rocky
VIDEO: Rihanna joins Coldplay in Paris
VIDEO: Rihanna discusses her sex appeal with Oprah
VIDEO: Rihanna talks Chris Brown with Oprah
VIDEO: Oprah previews interview with Rihanna
PHOTOS: Oprah hangs with Rihanna in Barbados
PHOTO: Rihanna breaks toe on vacation
Rihanna to design collection for River Island
Rihanna to star in new animated film
Rihanna denies cancelling London visit
PHOTOS: Rihanna goes topless for Esquire UK
PHOTO: Rihanna goes nude to promote new perfume
VIDEO: Rihanna performs on American Idol finale
Rihanna to perform on American Idol finale
VIDEO: Rihanna rocks Saturday Night Live
Rihanna breaks Vevo record
VIDEO: Rihanna – Where Have You Been
VIDEO: Rihanna – Behind the scenes of Where Have You Been
VIDEO: Rihanna – The making of Where Have You Been
Rihanna tops the popmusiclife Pop 10
Rihanna responds to marijuana controversy
Rihanna confirmed for Saturday Night Live
PHOTOS: Rihanna on cover of new Elle magazine
VIRAL VIDEO: We Found Love (In The Hunger Games)