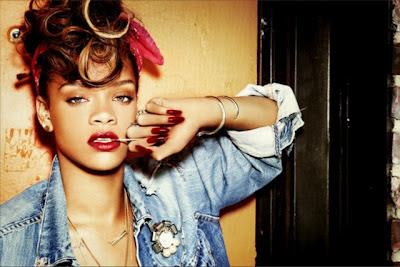 Rihanna
is teaming up with UK clothing line
River Island
to design her own collection, which will launch in Spring 2013.
"I've been wanting to design my own collection for some time,"
says Rihanna.
"

River Island

is the perfect partner for me to collaborate with and working with a British, family run business also really appealed to me. I find London really inspiring and

River Island

loves to have fun with clothes. I'm looking forward to working with them and creating something really special."
River Island
is a brand with British heritage. Founded and based in London, the business was created and is managed by the Lewis family.
With design at the heart of the business,
River Island
continues to grow globally as it enters its 64th year. The company has over 300 stores in the UK, Republic of Ireland, Russia, Holland, Poland, Belgium, Middle East and Far East and offers worldwide shipping through its website.
The brand is positioned as a fast-moving fashion business offering great value and distinctive women's, men's and kid's clothing, footwear and accessories.
Rihanna
See also:
Rihanna to star in new animated film
Rihanna denies cancelling London visit
PHOTOS: Rihanna goes topless for Esquire UK
PHOTO: Rihanna goes nude to promote new perfume
VIDEO: Rihanna performs on American Idol finale
Rihanna to perform on American Idol finale
VIDEO: Rihanna rocks Saturday Night Live
Rihanna breaks Vevo record
VIDEO: Rihanna – Where Have You Been
VIDEO: Rihanna – Behind the scenes of Where Have You Been
VIDEO: Rihanna – The making of Where Have You Been
Rihanna tops the popmusiclife Pop 10
Rihanna responds to marijuana controversy
Rihanna confirmed for Saturday Night Live
PHOTOS: Rihanna on cover of new Elle magazine
VIRAL VIDEO: We Found Love (In The Hunger Games)
VIDEO: Gene Simmons of KISS slams Rihanna
AUDIO: Rihanna talks about working with Chris Brown
VIDEO: Rihanna in new Battleship film preview
VIDEO: Rihanna rolls around in her underwear for Armani