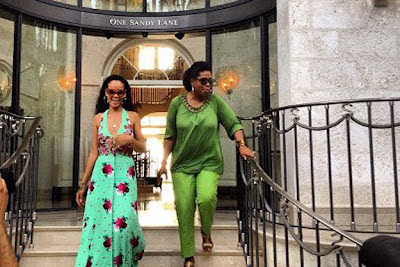 Rihanna
continues to enjoy some vacation time, as new pictures from her home country of Barbados have surfaced.
Oprah Winfrey
sat down with
Rihanna
over the weekend for an interview that was filmed as part of her "Oprah's Next Chapter" series.
Following the session, Oprah tweeted a photo of the two leaving a resort on the island, writing
"@rihanna and I finishing up interview. What a refreshing surprise she is!"
The big O also tweeted a picture of the two in an SUV, writing,
"Look who's driving me around Barbados!"
–
Rihanna
posted the same picture, with the caption,
"Look who popped up in my Hometown BARBADOS #topnotch."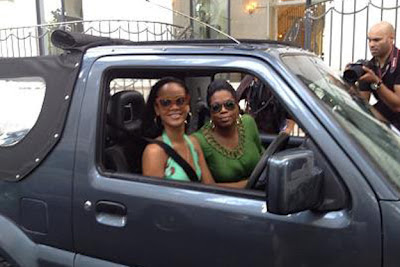 Rihanna
See also:
PHOTO: Rihanna breaks toe on vacation
Rihanna to design collection for River Island
Rihanna to star in new animated film
Rihanna denies cancelling London visit
PHOTOS: Rihanna goes topless for Esquire UK
PHOTO: Rihanna goes nude to promote new perfume
VIDEO: Rihanna performs on American Idol finale
Rihanna to perform on American Idol finale
VIDEO: Rihanna rocks Saturday Night Live
Rihanna breaks Vevo record
VIDEO: Rihanna – Where Have You Been
VIDEO: Rihanna – Behind the scenes of Where Have You Been
VIDEO: Rihanna – The making of Where Have You Been
Rihanna tops the popmusiclife Pop 10
Rihanna responds to marijuana controversy
Rihanna confirmed for Saturday Night Live
PHOTOS: Rihanna on cover of new Elle magazine
VIRAL VIDEO: We Found Love (In The Hunger Games)