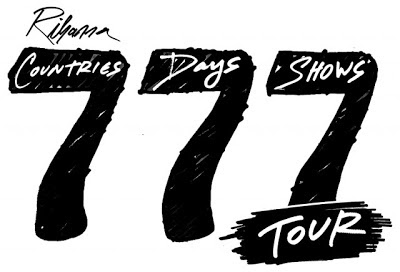 Rihanna
continues to gear up for the November 19th release of her new album,
"Unapologetic."
On Monday,
Rihanna
revealed the full details behind her 777 Tour, which will see the pop superstar play 7 shows in 7 countries in 7 days, starting this Wednesday, November 14.
For the trip,
Rihanna
will be joined on a Boeing 777 twinjet by a group of die-hard fans from the Rihanna Navy, as well as a traveling international press corps of over 150 journalists representing 82 countries.
The "777" tour will proceed as follows: Wednesday, November 14th in Mexico City; November 15th in Toronto; November 16th in Stockholm; November 17th in Paris; November 18th in Berlin; worldwide release date, Monday, November 19th in London; and Tuesday, November 20th in New York City.
The "777" tour will host an intimate gig in each of 7 cities in 7 different countries.
Rihanna
will announce the venues directly to her fans when she arrives in their city.
"I am so excited about the 777 Tour,"
said Rihanna.
"We are turning this jumbo jet into our tour bus. We're practically living on this thing for a week: sleeping, partying, all together. Me, my fans, the press...it's going to be a wild ride. I wanted it to be a rock n' roll adventure, and I think when it's over it will be the coolest thing I've ever done. I'm that excited about it."
Rihanna
"777 TOUR"
NOV 14 – Mexico City
NOV 15 – Toronto
NOV 16 – Stockholm
NOV 17 – Paris
NOV 18 – Berlin
NOV 19 – London
NOV 20 – New York City
Rihanna
See also:
VIDEO: Rihanna performs on Saturday Night Live
Rihanna premieres Diamonds video
Rihanna reveals track listing for Unapologetic
Rihanna announces 777 tour
Rihanna's new album, Unapologetic, out next month
Rihanna: Diamonds tops UK singles chart
Rihanna to premiere new single on Wednesday
Rihanna tops the popmusiclife Pop 10
Rihanna to release new single next week, album this fall
VIDEO: Rihanna, Coldplay and Jay-Z close Paralympics
Rihanna announces 2013 North American tour
Rihanna releases Cockiness remix ft. A$AP Rocky
VIDEO: Rihanna joins Coldplay in Paris
VIDEO: Rihanna discusses her sex appeal with Oprah
VIDEO: Rihanna talks Chris Brown with Oprah
VIDEO: Oprah previews interview with Rihanna
PHOTOS: Oprah hangs with Rihanna in Barbados
PHOTO: Rihanna breaks toe on vacation
Rihanna to design collection for River Island
Rihanna to star in new animated film
Rihanna denies cancelling London visit
PHOTOS: Rihanna goes topless for Esquire UK
PHOTO: Rihanna goes nude to promote new perfume
VIDEO: Rihanna performs on American Idol finale
Rihanna to perform on American Idol finale
VIDEO: Rihanna rocks Saturday Night Live
Rihanna breaks Vevo record
VIDEO: Rihanna – Where Have You Been
VIDEO: Rihanna – Behind the scenes of Where Have You Been
VIDEO: Rihanna – The making of Where Have You Been
Rihanna tops the popmusiclife Pop 10
Rihanna responds to marijuana controversy
Rihanna confirmed for Saturday Night Live
PHOTOS: Rihanna on cover of new Elle magazine
VIRAL VIDEO: We Found Love (In The Hunger Games)