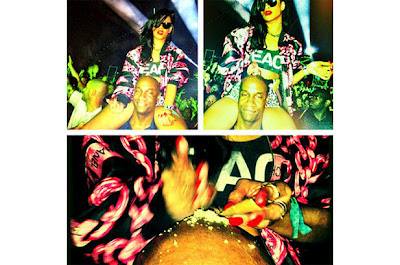 Reports and photos of
Rihanna
smoking pot at the Coachella festival last weekend have made some headlines for the pop singer.
Billboard
reports the headlines have forced
Rihanna
to respond.
On Thursday, the uptight folks at MTV tweeted
"Yikes. @Rihanna's marijuana photos from Coachella spark controversy,"
posting shots from the singer's Instagram feed and drawing a barbed response from
Rihanna
herself.

"@MTV Yikes… @rihanna ran out of f***s to give,"
she tweeted back.
MTV has since deleted its tweet, though the story remains posted.
"I'm crazy, and I don't pretend to be anything else,"
Rihanna
tweeted on Tuesday, in response to fans concerned by the photos.
Perhaps she was drawing inspiration from past artists: on Wednesday,
Rihanna
took to her Twitter page to advise fans to see the new
Bob Marley
documentary,
"Marley."
"Bob Marley is my HERO #thatisall,"
she added, of the noted reggae icon and marijuana aficionado.
The singer's Coachella photos aren't the only ones that have made headlines for the pop superstar; in January,
Rihanna
was caught on film enjoying some herb while on vacation in Hawaii.
Rihanna
Rihanna –

You Da One
See also:
Rihanna confirmed for Saturday Night Live
PHOTOS: Rihanna on cover of new Elle magazine
VIRAL VIDEO: We Found Love (In The Hunger Games)
VIDEO: Gene Simmons of KISS slams Rihanna
AUDIO: Rihanna talks about working with Chris Brown
VIDEO: Rihanna in new Battleship film preview
VIDEO: Rihanna rolls around in her underwear for Armani
Topless Rihanna tops the popmusiclife Pop 10
PHOTO: Rihanna posts topless photo on Twitter
Rihanna to play Whitney Houston in film?
Rihanna & Chris Brown to reunite on American Idol?
Rihanna tops the popmusiclife Pop 10
Chris Brown collaboration was Rihanna's idea
AUDIO: Chris Brown & Rihanna – Turn Up The Music
AUDIO: Rihanna & Chris Brown – Birthday Cake remix
VIDEO: Rihanna – The Road To Talk That Talk part 2
VIDEO: Rihanna – The Road To Talk That Talk part 1
Rihanna sets Vevo record with 2 billion views
Rihanna to perform with Coldplay at the Grammys
Rihanna brags about smoking pot
AUDIO: Rihanna ft. Flo Rida – We Found Love remix
Rihanna tops Lady Gaga as YouTube Queen
Rihanna announces 'Talk That Talk' as next single
NEW VIDEO: Rihanna – You Da One