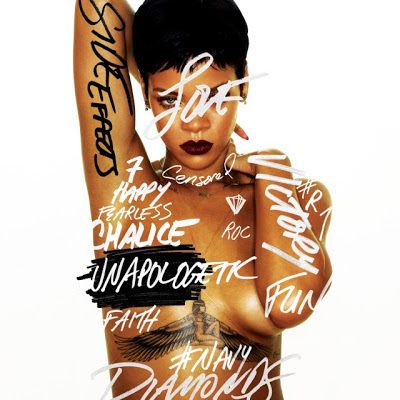 Rihanna
has revealed the track listing for her forthcoming new album,
"Unapologetic."
The standard version of project features 14 songs, while the Deluxe Edition has a bonus DVD and 17 tracks – two of the three extra songs are remixes of the lead single,
"Diamonds."
Last week,
Rihanna
revealed that a limited edition version of
"Unapologetic,"
"Diamonds Executive Platinum Box"
will be available starting December 11th and is a limited edition art piece for huge
Rihanna
fans. It includes a colored
"Diamonds"
remixes vinyl, 2GB Credit Card-style USB stick, a unisex shirt featuring a photo from her
"Unapologetic"
album photo shoot with
Michael Muller
, seven art print lithographs and other artwork, view master, poster and laptop sticker, a note from the singer to the Rihanna Navy and much more, selling for $250.
The album was produced by Norwegian hit makers
Stargate
, whose track record of hits with
Rihanna
stretches back to 2006's
"Unfaithful"
, and includes
"Don't Stop the Music", "Take A Bow", "Rude Boy", "Only Girl (In the World)", "What's My Name" (featuring Drake)
and
"Talk That Talk"
.
"Unapologetic"
is due November 19.
Rihanna
"'Unapologetic"
Release date: November 19 (Nov 20 in North America)

01. 'Fresh Off the Runway'
02. 'Diamonds'
03. 'Numb'
04. 'Pour It Up'
05. 'Loveeeeeee Song'
06. 'Jump'
07. 'Right Now'
08. 'What Now'
09. 'Stay'
10. 'Nobody's Business'
11. 'Love Without Tragedy / Mother Mary'
12. 'Get It Over With'
13. 'No Love Allowed'
14. 'Lost In Paradise'
Deluxe Edition
15. 'Half of Me'
16. 'Diamonds (Dave Aude 100 Extended)'
17. 'Diamonds (Gregor Salto Downtempo Remix)'
Bonus DVD: Never-before-released footage of Rihanna's Loud Tour recorded live at London's O2 Arena (20 mins)
Rihanna
See also:
Rihanna announces 777 tour
Rihanna's new album, Unapologetic, out next month
Rihanna: Diamonds tops UK singles chart
Rihanna to premiere new single on Wednesday
Rihanna tops the popmusiclife Pop 10
Rihanna to release new single next week, album this fall
VIDEO: Rihanna, Coldplay and Jay-Z close Paralympics
Rihanna announces 2013 North American tour
Rihanna releases Cockiness remix ft. A$AP Rocky
VIDEO: Rihanna joins Coldplay in Paris
VIDEO: Rihanna discusses her sex appeal with Oprah
VIDEO: Rihanna talks Chris Brown with Oprah
VIDEO: Oprah previews interview with Rihanna
PHOTOS: Oprah hangs with Rihanna in Barbados
PHOTO: Rihanna breaks toe on vacation
Rihanna to design collection for River Island
Rihanna to star in new animated film
Rihanna denies cancelling London visit
PHOTOS: Rihanna goes topless for Esquire UK
PHOTO: Rihanna goes nude to promote new perfume
VIDEO: Rihanna performs on American Idol finale
Rihanna to perform on American Idol finale
VIDEO: Rihanna rocks Saturday Night Live
Rihanna breaks Vevo record
VIDEO: Rihanna – Where Have You Been
VIDEO: Rihanna – Behind the scenes of Where Have You Been
VIDEO: Rihanna – The making of Where Have You Been
Rihanna tops the popmusiclife Pop 10
Rihanna responds to marijuana controversy
Rihanna confirmed for Saturday Night Live
PHOTOS: Rihanna on cover of new Elle magazine
VIRAL VIDEO: We Found Love (In The Hunger Games)