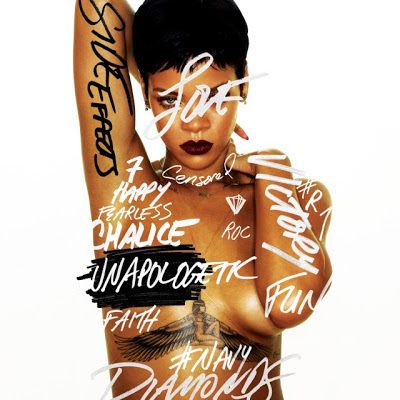 Rihanna
has finally landed her first U.S. #1 album.
Billboard
report's the singer's
"Unapologetic"
opens atop the Billboard 200 albums chart, selling 238,000 copies in its first week according to Nielsen SoundScan.
Rihanna
shared the news with fans via Twitter, writing, "Wait!!!!! What the F**K?!!!! #UNAPOLOGETIC just debuted at #1 in AMERICA!!!!! My first number 1 album there!!! Thank you Navy, u deserve it."
The project is
Rihanna
's seventh studio release in a little over seven years, and follows six earlier top 10 efforts.
Rather infamously, until this week, the diva held the distinction of having the most No. 1 songs on the Hot 100 without having claimed a No. 1 album.
"Unapologetic"
also gives
Rihanna
her best sales week yet for an album. The new album's arrival surpasses her previous best frame, racked when 2010's
"Loud"
launched at No. 3 with 207,000.
Rihanna
recently wrapped up her 777 Tour, which saw the pop superstar play 7 shows in 7 countries in 7 days.
Rihanna
See also:
Rihanna reveals 777 tour details
VIDEO: Rihanna performs on Saturday Night Live
Rihanna premieres Diamonds video
Rihanna reveals track listing for Unapologetic
Rihanna announces 777 tour
Rihanna's new album, Unapologetic, out next month
Rihanna: Diamonds tops UK singles chart
Rihanna to premiere new single on Wednesday
Rihanna tops the popmusiclife Pop 10
Rihanna to release new single next week, album this fall
VIDEO: Rihanna, Coldplay and Jay-Z close Paralympics
Rihanna announces 2013 North American tour
Rihanna releases Cockiness remix ft. A$AP Rocky
VIDEO: Rihanna joins Coldplay in Paris
VIDEO: Rihanna discusses her sex appeal with Oprah
VIDEO: Rihanna talks Chris Brown with Oprah
VIDEO: Oprah previews interview with Rihanna
PHOTOS: Oprah hangs with Rihanna in Barbados
PHOTO: Rihanna breaks toe on vacation
Rihanna to design collection for River Island
Rihanna to star in new animated film
Rihanna denies cancelling London visit
PHOTOS: Rihanna goes topless for Esquire UK
PHOTO: Rihanna goes nude to promote new perfume
VIDEO: Rihanna performs on American Idol finale
Rihanna to perform on American Idol finale
VIDEO: Rihanna rocks Saturday Night Live
Rihanna breaks Vevo record
VIDEO: Rihanna – Where Have You Been
VIDEO: Rihanna – Behind the scenes of Where Have You Been
VIDEO: Rihanna – The making of Where Have You Been
Rihanna tops the popmusiclife Pop 10
Rihanna responds to marijuana controversy
Rihanna confirmed for Saturday Night Live
PHOTOS: Rihanna on cover of new Elle magazine
VIRAL VIDEO: We Found Love (In The Hunger Games)