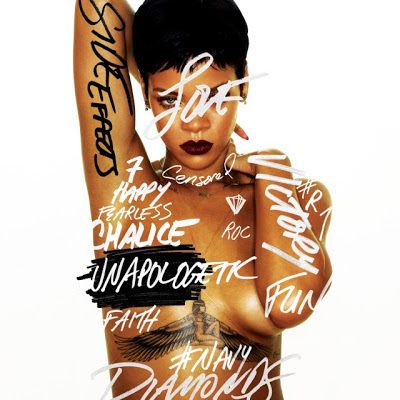 Rihanna
has announced that her new album,
"Unapologetic,"
will be released November 19.
"Diamonds,"
the first single from the new album is available at all digital retailers now.
The song debuted at the top of the UK singles charts last week, while only managing a No. 18 entry on the Billboard Hot 100.
On Monday, October 15, the singer will launch
Rihanna7.com
, an interactive gaming experience featuring weekly trivia and assignments to bring fans closer to the album's release.
Last month,
Rihanna
announced her 2013 Diamonds World Tour; shows kick off March 8th, 2013 in Buffalo, New York before hitting more than 27 cities across the continent.
For a list of tour dates, click
here
.
Rihanna
See also:
Rihanna: Diamonds tops UK singles chart
Rihanna to premiere new single on Wednesday
Rihanna tops the popmusiclife Pop 10
Rihanna to release new single next week, album this fall
VIDEO: Rihanna, Coldplay and Jay-Z close Paralympics
Rihanna announces 2013 North American tour
Rihanna releases Cockiness remix ft. A$AP Rocky
VIDEO: Rihanna joins Coldplay in Paris
VIDEO: Rihanna discusses her sex appeal with Oprah
VIDEO: Rihanna talks Chris Brown with Oprah
VIDEO: Oprah previews interview with Rihanna
PHOTOS: Oprah hangs with Rihanna in Barbados
PHOTO: Rihanna breaks toe on vacation
Rihanna to design collection for River Island
Rihanna to star in new animated film
Rihanna denies cancelling London visit
PHOTOS: Rihanna goes topless for Esquire UK
PHOTO: Rihanna goes nude to promote new perfume
VIDEO: Rihanna performs on American Idol finale
Rihanna to perform on American Idol finale
VIDEO: Rihanna rocks Saturday Night Live
Rihanna breaks Vevo record
VIDEO: Rihanna – Where Have You Been
VIDEO: Rihanna – Behind the scenes of Where Have You Been
VIDEO: Rihanna – The making of Where Have You Been
Rihanna tops the popmusiclife Pop 10
Rihanna responds to marijuana controversy
Rihanna confirmed for Saturday Night Live
PHOTOS: Rihanna on cover of new Elle magazine
VIRAL VIDEO: We Found Love (In The Hunger Games)