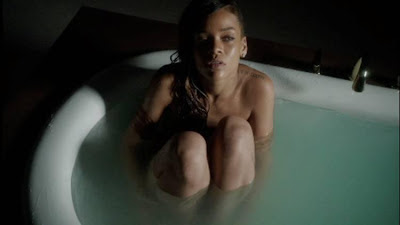 Rihanna
has released a video for her latest single,
"Stay,"
on the heels of her performance of the song at the Grammys on Sunday.
The clip, shot with a single camera, features the pop star drowning her sorrows in the bathtub, displaying a very vulnerable, emotional side.
The track is the second single from her
"Unapologetic"
album.
On Saturday (Feb 16),
Rihanna
will launch her new fashion collection, Rihanna For River Island, at London Fashion Week.
The singer kicks off her 2013 Diamonds World Tour on March 8 in Buffalo.
Rihanna
See also:
Rihanna performs Stay at the Grammys
Bruno Mars teams up with Sting, Rihanna & more at the Grammys
Rihanna: Behind the scenes of River Island fashion collection
Rihanna to launch fashion collection next month
Rihanna brings Diamonds to The Voice finale
VIDEO: Rihanna performs at Victoria's Secret Fashion Show
Rihanna scores first U.S. No. 1 album
Rihanna reveals 777 tour details
VIDEO: Rihanna performs on Saturday Night Live
Rihanna premieres Diamonds video
Rihanna reveals track listing for Unapologetic
Rihanna announces 777 tour
Rihanna's new album, Unapologetic, out next month
Rihanna: Diamonds tops UK singles chart
Rihanna to premiere new single on Wednesday
Rihanna tops the popmusiclife Pop 10
Rihanna to release new single next week, album this fall
VIDEO: Rihanna, Coldplay and Jay-Z close Paralympics
Rihanna announces 2013 North American tour
Rihanna releases Cockiness remix ft. A$AP Rocky
VIDEO: Rihanna joins Coldplay in Paris
VIDEO: Rihanna discusses her sex appeal with Oprah
VIDEO: Rihanna talks Chris Brown with Oprah
VIDEO: Oprah previews interview with Rihanna
PHOTOS: Oprah hangs with Rihanna in Barbados
PHOTO: Rihanna breaks toe on vacation
Rihanna to design collection for River Island
Rihanna to star in new animated film
Rihanna denies cancelling London visit
PHOTOS: Rihanna goes topless for Esquire UK
PHOTO: Rihanna goes nude to promote new perfume
VIDEO: Rihanna performs on American Idol finale
Rihanna to perform on American Idol finale
VIDEO: Rihanna rocks Saturday Night Live
Rihanna breaks Vevo record
VIDEO: Rihanna – Where Have You Been
VIDEO: Rihanna – Behind the scenes of Where Have You Been
VIDEO: Rihanna – The making of Where Have You Been
Rihanna tops the popmusiclife Pop 10
Rihanna responds to marijuana controversy
Rihanna confirmed for Saturday Night Live
PHOTOS: Rihanna on cover of new Elle magazine
VIRAL VIDEO: We Found Love (In The Hunger Games)