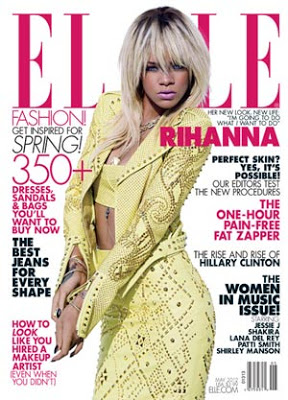 Rihanna
is featured on the cover of the Elle magazine, on newsstands April 17.
The pop superstar is also spotlighted in the May issue with a fashion shoot and interview, during which she talks about finding her way back to her ex
Chris Brown
, in a professional sense.
"It gave me guns. I was like, well, f—,"
explains
Rihanna
.
"They know more about me than I want them to know. It's embarrassing. But that was my opening. That was my liberation, my moment of bring it. […] Now you know that, so you can say what you want about it. I don't have anything to hide."
The Rihanna-Brown reunion – on singles by each artist - made headlines and received some harsh criticism, given their controversial past.
"The bottom line is that everyone thinks differently,"
said
Rihanna
.
"It's very hard for me to accept, but I get it. People end up wasting their time on the blogs or whatever, ranting away, and that's all right. Because tomorrow I'm still going to be the same person. I'm still going to do what I want to do."
Find out more at
Elle.com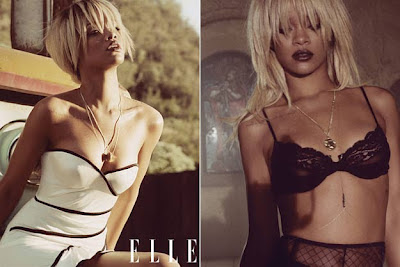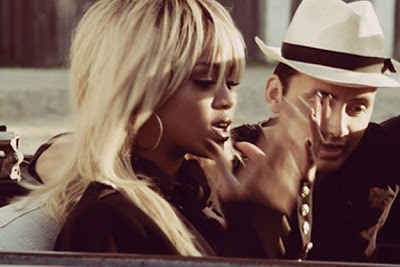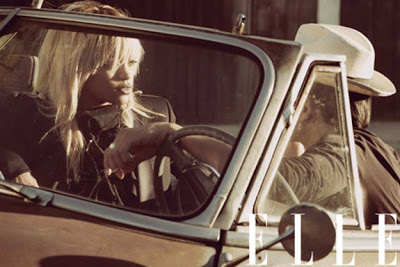 Rihanna
Rihanna ft. Chris Brown –

Birthday Cake remix
See also:
VIRAL VIDEO: We Found Love (In The Hunger Games)
VIDEO: Gene Simmons of KISS slams Rihanna
AUDIO: Rihanna talks about working with Chris Brown
VIDEO: Rihanna in new Battleship film preview
VIDEO: Rihanna rolls around in her underwear for Armani
Topless Rihanna tops the popmusiclife Pop 10
PHOTO: Rihanna posts topless photo on Twitter
Rihanna to play Whitney Houston in film?
Rihanna & Chris Brown to reunite on American Idol?
Rihanna tops the popmusiclife Pop 10
Chris Brown collaboration was Rihanna's idea
AUDIO: Chris Brown & Rihanna – Turn Up The Music
AUDIO: Rihanna & Chris Brown – Birthday Cake remix
VIDEO: Rihanna – The Road To Talk That Talk part 2
VIDEO: Rihanna – The Road To Talk That Talk part 1
Rihanna sets Vevo record with 2 billion views
Rihanna to perform with Coldplay at the Grammys
Rihanna brags about smoking pot
AUDIO: Rihanna ft. Flo Rida – We Found Love remix
Rihanna tops Lady Gaga as YouTube Queen
Rihanna announces 'Talk That Talk' as next single
NEW VIDEO: Rihanna – You Da One