Rihanna
is baring it all to promote her new perfume.
Billboard
reports
Rihanna
took to Instagram to share the big news with her fans, writing:
"I got a big shoot tomorrow for a surprise fragrance for my ladies called... NUDE! Bye bye dreadz, for NOW!"
This is
Rihanna
's third fragrance, following the debuts of her extremely successful
Reb'l Fleur
and
Rebelle
perfumes last year.
The singer choose to show off more then just a new head of platinum locks in the steamy pictures taken to promote the new scent, which her friend
Melissa Forde
shared on Instagram.
"Behind the scenes for new fragrance photo shoot,"
Forde wrote. The 24-year-old star is covered by her arms, ash she gives the camera a saucy stare.
Rihanna
's new perfume is expected to launch next year.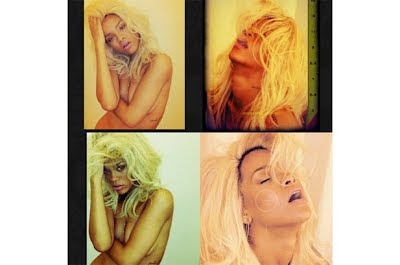 Rihanna
See also:
VIDEO: Rihanna performs on American Idol finale
Rihanna to perform on American Idol finale
VIDEO: Rihanna rocks Saturday Night Live
Rihanna breaks Vevo record
VIDEO: Rihanna – Where Have You Been
VIDEO: Rihanna – Behind the scenes of Where Have You Been
VIDEO: Rihanna – The making of Where Have You Been
Rihanna tops the popmusiclife Pop 10
Rihanna responds to marijuana controversy
Rihanna confirmed for Saturday Night Live
PHOTOS: Rihanna on cover of new Elle magazine
VIRAL VIDEO: We Found Love (In The Hunger Games)
VIDEO: Gene Simmons of KISS slams Rihanna
AUDIO: Rihanna talks about working with Chris Brown
VIDEO: Rihanna in new Battleship film preview
VIDEO: Rihanna rolls around in her underwear for Armani