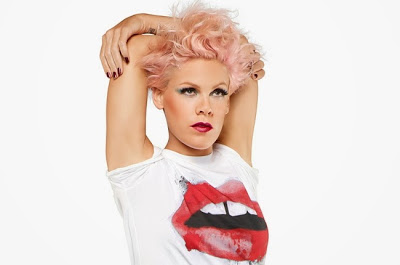 Pink
has signed a new worldwide, multiple album recording deal with her current label RCA Records.
"I am super duper excited to continue onwards and upwards with RCA and my team there,"
said the singer.
"We work really well together and they care in a way that artists don't get to see very often anymore. I look forward to whatever the future holds for us and am so beyond thrilled with how much they believe in me. Woohoo rock n roll!"
The new deal follows the huge success of 2012's
"The Truth About Love"
, which debuted at No. 1 on the Billboard Top 200 as well as in 6 other countries. The project marked Pink's first No. 1 debut in the US and a personal first week sales best.
"The Truth About Love"
is certified double platinum in the US (for sales of 2 million copies), 2X Platinum in the UK, Germany, Ireland, and the Netherlands, 8X Platinum in Australia, and Platinum-plus in over ten countries.
The album produced the smash singles
"Blow Me (One Last Kiss)", "Try"
and
"Just Give Me A Reason"
ft.
Nate Ruess
.
Pink
recently wrapped her sold-out The Truth About Love World tour after playing 142 shows in 13 countries. During the tour, in Melbourne,
Pink
broke the record for most dates in one venue on the same tour, performing 18 shows in a row to almost 250,000 fans – breaking her own record from her previous acclaimed Funhouse Tour in 2009.
Pink
recently released
"The Truth About Love Tour: Live From Melbourne"
on DVD, Blu-Ray and digital long form, which also debuted at No. 1 on Billboard's Music Video Chart and marked another personal sales best.
Pink
performed
"Somewhere Over The Rainbow"
at the Oscars this past weekend as part of a tribute to The Wizard Of Oz.
See also:
Pink releases video for True Love ft. Lily Allen
Pink: Behind the scenes of the Try video
>br />
Pink's The Truth About Love becomes her first No. 1 album
Pink performs with No Doubt at iHeartRadio festival
VIDEO: Pink rocks NBC's Today show
Pink announces North American tour
Pink releases color version of Blow Me (One Last Kiss) video
Pink is the newest face of CoverGirl
VIDEO: Pink - Behind the scenes of her new video
PHOTO: Pink on the set of her new video
VIDEO: Pink – Blow Me (One Last Kiss)
Pink reveals new album cover
AUDIO: Preview new Pink song
Pink tops the popmusiclife Pop 10
VIDEO: Pink – Blow Me (One Last Kiss) lyric video
VIDEO: Pink announces new album
AUDIO: Pink releases new single – Blow Me (One Last Kiss)
Pink: New single due next month