Pink
has joined the likes of
Taylor Swift
and
Queen Latifah
and has become a
CoverGirl
.
"Guess who's the new COVERGIRL!!!!!!!!!!"
tweeted
Pink
on Monday along with an instagram photo (see above image).
The same photo appeared on CoverGirls's Facebook page, who posted it by saying,
"Introducing this year's newest shade of P!NK. Fearless, fun & the new face of COVERGIRL! LIKE this if you ♥ P!NK."
The cosmetics company also posted an image from one of
Pink
's photo shoots (see below), adding,
"This year, P!NK is in! This behind-the-scenes image of our newest COVERGIRL Pink is exclusive to YOU, the best fans ever. 'Share' this if you're excited about our newest COVERGIRL."
"

Pink

is a powerful and provocative role model, who has always been an advocate of individualism and making no apologies for who you are,"
said
Esi Eggleston Bracey
, VP and General Manager of Covergirl.
"That combination of irreverence and integrity is exactly what the Covergirl brand loves about her and identifies with."
Pink
's news comes as her new single,
"Blow Me (One Last Kiss)"
is top 10 on the Billboard Hot 100; it's the lead single from her forthcoming album,
"The Truth About Love,"
which is due September 18.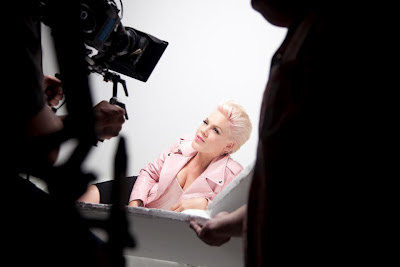 Pink
See also:
VIDEO: Pink - Behind the scenes of her new video
PHOTO: Pink on the set of her new video
VIDEO: Pink – Blow Me (One Last Kiss)
Pink reveals new album cover
AUDIO: Preview new Pink song
Pink tops the popmusiclife Pop 10
VIDEO: Pink – Blow Me (One Last Kiss) lyric video
VIDEO: Pink announces new album
AUDIO: Pink releases new single – Blow Me (One Last Kiss)
Pink: New single due next month