Kelly Clarkson
suffered an injury at the end of her show last Friday at Milwaukee's Summerfest event.
While saying goodnight to the audience, Clarkson was walking backwards across the stage when she tripped and fell over a microphone stand.
Watch video of the incident below.
On Tuesday, Clarkson posted a photo of herself in a wheelchair, with the caption:
"Sprained my foot and have a hairline fracture but the show must go on people ha! Thank you @ashes2lashes & @Jillandkate for the help!"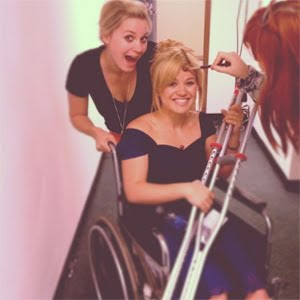 Kelly continues her role as a judge on ABC's "Duets" series and will resume her "Stronger" tour in Portland on July 21.
Kelly Clarkson
See also:
VIDEO: Kelly Clarkson – Dark Side
VIDEO: Kelly Clarkson rocks Dancing With The Stars finale
Kelly Clarkson signs on for new reality series, Duets
Kelly Clarkson tops US singles chart
VIDEO: Kelly Clarkson sings national anthem at Super Bowl
VIDEO: Behind the scenes with Kelly Clarkson on tour
VIDEO: Kelly Clarkson covers Cee Lo Green, Coldplay
Kelly Clarkson, Nicki Minaj, Bruno Mars & more to perform at Grammys
REPORT: Kelly Clarkson to sing anthem at Super Bowl
VIDEO: Kelly Clarkson rocks Saturday Night Live
TONIGHT: Kelly Clarkson on Saturday Night Live
Kelly Clarkson releases iTunes Session EP
Kelly Clarkson to release live iTunes Session
VIDEO: Kelly Clarkson live at The Troubadour
VIDEO: Kelly Clarkson rocks new single on The X Factor
Kelly Clarkson tops popmusiclife Pop 10 for 2nd week
Kelly Clarkson announces 2012 tour