Lady Gaga
's Born This Way Ball tour is nearing the end of the Australian leg, which wraps up with two shows in Perth this weekend.
Gaga played five nights in Melbourne in the last week and a half, and the pop icon and her crew were looking to celebrate the American July 4th holiday after the fifth show finished on Tuesday.
The Age
reports Gaga and company were turned away by the
Cherry Bar
club after negotiations to host the tour after-party fell through.
Gaga's band wanted to play the Cherry Club event, but co-owner and booker
James Young
insisted that Gaga's band have the stage cleared by 9pm to make way for local act
Jackson Firebird
, who were booked for week one of its Wednesday residency.
"We honour our existing bookings to local acts,"
said Young.
"The firebird Cherry wants is

Jackson Firebird

, not

Lady Gaga

."
Young said Gaga's band and crew enjoyed
"a great relationship with Cherry"
over previous tours.
"They've come in night after night, stayed very late and had a ball,"
he said.
"So the band approached us about having a tour after-party here."
In this instance, however, the band also wanted to play. When Young asked that they have the stage cleared by 9pm, they said they would rather not move their gear, and instead have the stage for the night
"But they were polite enough to say 'sorry we're going to go with Northcote Social Club',"
he said.
A photo of Gaga partying at Northcote can be seen below: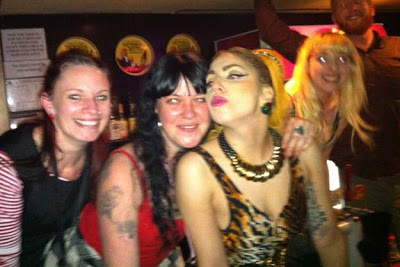 Lady Gaga
See also:
Lady Gaga tops the popmusiclife Pop 10
VIDEO: Lady Gaga debuts new song in Australia
AUDIO: Rare unreleased Lady Gaga song surfaces online
Lady Gaga concussion update
PHOTOS: Lady Gaga reveals new perfume
PHOTO: Lady Gaga displays black eye after concert concussion
VIDEO: Lady Gaga suffers concussion during New Zealand concert
Lady Gaga cancels Indonesia concert over threats
VIDEO: Lady Gaga sings on The Simpsons
VIDEO: Lady Gaga on The Simpsons preview
Lady Gaga to appear on season finale of The Simpsons
VIDEO: Lady Gaga launches Born This Way Ball tour in South Korea
PHOTOS: Lady Gaga prepares to launch tour in South Korea
VIDEO: Preview Oprah's new interview with Lady Gaga
Lady Gaga sets new Twitter record
Lady Gaga launches Born This Way Foundation
Lady Gaga to guest star in Men In Black 3