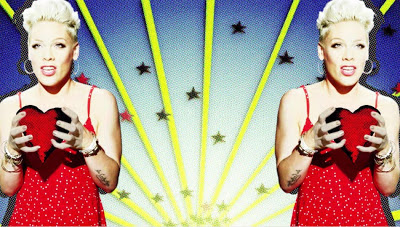 Pink has released the video for "True Love" ft. Lily Allen, the latest single from her album, "The Truth About Love."
The clip is a family affair for the singer as it features her motocross-racer husband Carey Hart and their 2-year-old daughter, Willow.
Pink is currently playing shows in Australia, with dates booked there into early September. She'll return to the States to continue her tour on October 10 in Oakland, CA.
Pink
See also:
Pink: Behind the scenes of the Try video
Pink's The Truth About Love becomes her first No. 1 album
Pink performs with No Doubt at iHeartRadio festival
VIDEO: Pink rocks NBC's Today show
Pink announces North American tour
Pink releases color version of Blow Me (One Last Kiss) video
Pink is the newest face of CoverGirl
VIDEO: Pink - Behind the scenes of her new video
PHOTO: Pink on the set of her new video
VIDEO: Pink – Blow Me (One Last Kiss)
Pink reveals new album cover
AUDIO: Preview new Pink song
Pink tops the popmusiclife Pop 10
VIDEO: Pink – Blow Me (One Last Kiss) lyric video
VIDEO: Pink announces new album
AUDIO: Pink releases new single – Blow Me (One Last Kiss)
Pink: New single due next month