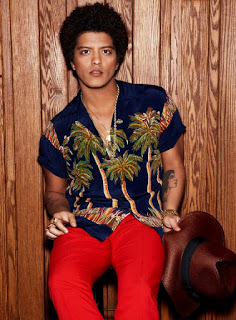 Bruno Mars
tops the
popmusiclife Pop 10
for a 2nd week.
The singer recently made an appearance on the UK program
The Jonathan Ross Show
, which included a chat with host Ross, who surprised the singer with a clip of him interviewing a 4-year old Bruno performing as an Elvis impersonator in his native Hawaii.
Check out video and all the details in this week's top story!
The
PP10
is a list of the most-viewed pop news stories in the past week by
popmusiclife
readers.
For a full list of the
popmusiclife Pop 10
charts, check out the archives
here
.
Popmusiclife Pop 10 week ending March 10, 2013

01 – VIDEO: Bruno Mars performs on The Jonathan Ross Show
02 – Ed Sheeran announces new album release date
03 – VIDEO: Bruno Mars rocks Victoria's Secret Fashion Show
04 – Kesha gets sleazier on new release
05 – Watch Justin Timberlake's Saturday Night Live promos
06 – VIDEO: Rihanna rehearses for Diamonds world tour
07 – Demi Lovato releases Heart Attack lyric video
08 – VIDEO: Coldplay rock Jimmy Kimmel's post-Oscars show
09 – Cee Lo Green releases video for Only You
10 – VIDEO: Justin Bieber rocks Today Show
See also:
Mar 03: Bruno Mars
Feb 24: Fergie
Feb 17: Bruno Mars
Feb 10: Bruno Mars
Feb 03: Justin Bieber
Jan 27: Bruno Mars
Jan 20: Nicki Minaj
Jan 13: Shakira and Usher
Jan 06: Bruno Mars
Dec 30: Bruno Mars