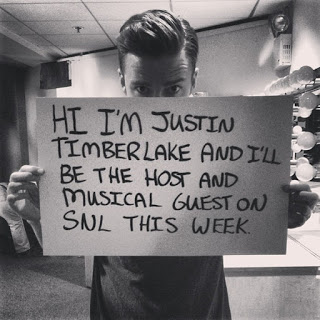 Justin Timberlake
is the host and musical guest on Saturday Night Live this weekend.
This will be Justin's fifth time as host of the show; he has previously won two Emmys for being a guest actor on the show (in 2009 and 2011).
Justin will be on hand to promote his new album,
"The 20/20 Experience,"
which is due March 19.
The album is led by the single,
"Suit & Tie" ft. Jay Z.
Justin Timberlake
See also:
Justin Timberlake releases epic new song, Mirrors
VIDEO: Justin Timberlake performs at the Grammys
Justin Timberlake partners with Bud Light Platinum
Justin Timberlake to perform at Grammys
Justin Timberlake releases Suit & Tie lyric video
Justin Timberlake's live return set for Super Bowl weekend
Justin Timberlake: Suit & Tie expecting big opening sales week