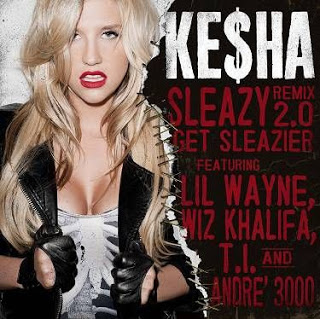 Ke$ha
is getting sleazier on her brand new release.
The pop star is teaming up with iTunes to exclusively release
"Sleazy Remix 2.0 Get Sleazier"
(feat.
Lil Wayne, Wiz Khalifa, T.I. & André 3000
) on December 13th.
"Get ready to get even $leazier with this sick collaboration I did with four of my favorite MCs of all time: Weezy, Andre 3000, Wiz Khalifa, and T.I.,"
says Ke$ha.
"I opened the 'Get $leazy' tour with this song every night and it always got the party started...Get ready, this is the SICKEST and SLEAZIEST version YET.$."
Ke$ha
is currently in the studio working on her sophomore album.
In 2010,
Ke$ha
was declared Billboard's Hot 100 Artist and her smash debut single
"TiK ToK"
was named Billboard's #1 Hot 100 Song, was the most played song of that year, and was the biggest-selling digital track in the world.
Ke$ha
has had 6 consecutive Top 10 hits including three #1 singles:
"TiK ToK", "Your Love Is My Drug"
and
"We R Who We R."
Her debut album
"Animal"
has sold more than 2.5 million copies worldwide.
Ke$ha
has toured the world, playing over 200 live shows in support of
"Animal"
and its companion album
"Cannibal."
Ke$ha
is the global ambassador for Casio Baby G and was recently named the first global ambassador for Humane Society International.
A few weeks ago,
Ke$ha
released a collection of photos from her tour…check it out…
Ke$ha
See also:
VIDEO: Kesha records Humane Society PSA to help street dogs