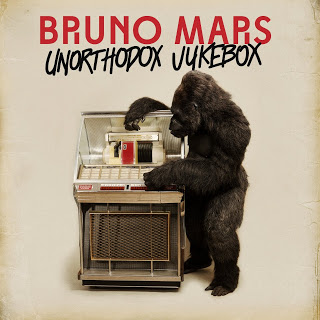 Bruno Mars
has earned his first US number 1 album with
"Unorthodox Jukebox."
Billboard
reports Mars' album, largely fueled by sale pricing by Amazon MP3, sold 95,000 copies in the week ending March 3 - for a gain of 96% compared to the previous week (according to Nielsen SoundScan).
On Tuesday, February 26, the digital retailer offered a bevy of albums for just $1.99, including Mars' latest and
Macklemore & Ryan Lewis' "The Heist."
Discounted sales of
"Unorthodox Jukebox"
and
"The Heist"
- and all of last week's other Amazon MP3 $1.99-priced titles - count toward their weekly total because the albums have been out for more than four weeks. Billboard doesn't count sales of albums priced below $3.49 in their first four weeks of release.
After their one-day $1.99 offering, the price of both
"Unorthodox Jukebox"
and
"The Heist"
went up to $3.99 for the rest of the week. (Both are still being sold for $3.99 as of March 5.)
"Unorthodox Jukebox"
might not have been No. 1 this week, had it not been for Amazon MP3. Of its total sales week, 64,000 were downloads. That's about 46,000 more than what the album has been selling in weekly downloads, on average, over the past two months (18,000).
So, subtract
"Unorthodox's"
estimated Amazon MP3 gain of 46,000 for the week and we're left with 48,000. That would be slightly less than what the No. 2 album sells this week: the debuting
"Amok"
from super group
Atoms For Peace
(50,000).
Mars will kick off his Moonshine Jungle world tour on June 22 in Washington, D.C.
Bruno Mars
See also:
VIDEO: Bruno Mars performs on The Jonathan Ross Show
Bruno Mars tops the popmusiclife Pop 10
Bruno Mars announces Moonshine Jungle world tour
Bruno Mars tops the popmusiclife Pop 10 for 2nd week
Bruno Mars teams up with Sting, Rihanna & more at the Grammys
Bruno Mars tops the popmusiclife Pop 10
Bruno Mars tops the popmusiclife Pop 10
Bruno Mars performs on Jimmy Kimmel
Bruno Mars tops popmusiclife Pop 10 for 5th week
Bruno Mars tops popmusiclife Pop 10 for 4th week
Bruno Mars tops popmusiclife Pop 10 for 3rd week
Bruno Mars guests on Season 3 finale of The Voice
Bruno Mars tops the popmusiclife Pop 10 for 2nd week
Bruno Mars launches Unorthodox Jukebox on The Today Show
Bruno Mars tops the popmusiclife Pop 10
VIDEO: Bruno Mars rocks Victoria's Secret Fashion Show
Bruno Mars releases new single – When I Was Your Man
Bruno Mars previews new song – Moonshine
Bruno Mars releases new single – Young Girls
Bruno Mars reveals Unorthodox Jukebox track listing
Bruno Mars reveals Unorthodox Jukebox cover
Bruno Mars releases video for Locked Out Of Heaven
Bruno Mars debuts new single, confirmed to host Saturday Night Live
Kelly Clarkson, Nicki Minaj, Bruno Mars & more to perform at Grammys
VIDEO: Bruno Mars rocks The X Factor