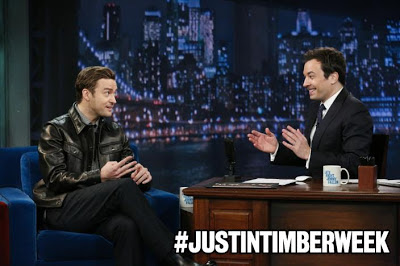 Following his weekend appearance as host and musical guest on Saturday Night Live, Justin Timberlake kicked off this week with a visit to Late Night with Jimmy Fallon.
The pair spoke about the SNL appearance, as well as his new album, "The 20/20 Experience," which drops next Tuesday, March 19.
Following the interview, Timberlake returned to play "Pusher Love Girl" from the new project. Timberlake will join Fallon for a series of musical performances all this week.
Justin Timberlake
See also:
Watch Justin Timberlake's Saturday Night Live promos
Justin Timberlake releases epic new song, Mirrors
VIDEO: Justin Timberlake performs at the Grammys
Justin Timberlake partners with Bud Light Platinum
Justin Timberlake to perform at Grammys
Justin Timberlake releases Suit & Tie lyric video
Justin Timberlake's live return set for Super Bowl weekend
Justin Timberlake: Suit & Tie expecting big opening sales week