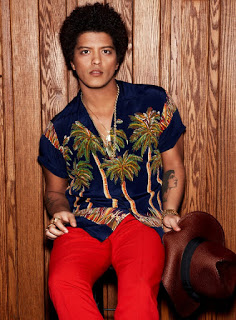 Bruno Mars
tops this week's
popmusiclife Pop 10
.
The singer rocked the 2012 Victoria's Secret Fashion Show, where he performed two tracks from his new album,
"Unorthodox Jukebox."
Check out the details in this week's top story!
The
PP10
is a list of the most-viewed pop news stories in the past week by
popmusiclife
readers.
For a full list of the
popmusiclife Pop 10
charts, check out the archives
here
.
Popmusiclife Pop 10
week ending March 3, 2013

01 – VIDEO: Bruno Mars rocks Victoria's Secret Fashion Show
02 – Kesha gets sleazier on new release
03 – VIDEO: Coldplay rock Jimmy Kimmel's post-Oscars show
04 – VIDEO: Justin Bieber rocks Today Show
05 – Lady Gaga undergoes hip surgery
06 – VIDEO: Adele performs and wins at the Oscars
07 – Justin Bieber releases lyric video for Right Here ft. Drake
08 – Cee Lo Green releases video for Only You
09 – AUDIO: Justin Bieber – Boyfriend
10 – Fergie is pregnant with first child
See also:
Feb 24: Fergie
Feb 17: Bruno Mars
Feb 10: Bruno Mars
Feb 03: Justin Bieber
Jan 27: Bruno Mars
Jan 20: Nicki Minaj
Jan 13: Shakira and Usher
Jan 06: Bruno Mars
Dec 30: Bruno Mars