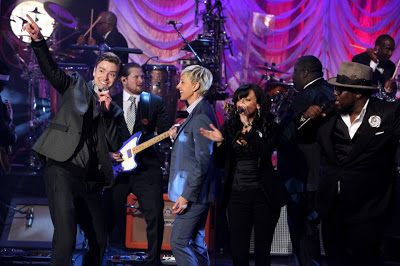 Justin Timberlake
was the featured guest and musical performer Thursday on the
Ellen DeGeneres Show
.
The visit was scheduled to promote his latest album,
"The 20/20 Experience."
Ellen asked Justin what his favorite thing is about being married to
Jessica Biel
.
"Every once in a while,"
he began,
"I can catch a glimpse of her when she doesn't see me looking and I have this moment, where I am like, 'If you never make a good decision, if you only make bad decisions for the rest of your life, you made one really good decision.' It's nice to marry your best friend. It suits me."
Timberlake performed his current hit single,
"Mirrors,"
on the show; the song is currently No. 7 on Billboard Hot 100 chart.
Justin Timberlake
See also:
Justin Timberlake spends 2nd week atop US charts
Justin Timberlake debuts atop Billboard 200 album chart
Justin Timberlake expected to debut at US No. 1 this week
Justin Timberlake tops the popmusiclife Pop 10 for 2nd week
Justin Timberlake releases video for Mirrors
Justin Timberlake to release The 20/20 Experience Volume 2 this fall
Justin Timberlake & Jimmy Fallon deliver History Of Rap part 4
Justin Timberlake debuts new song on night 3 of Jimmy Fallon
Justin Timberlake to launch new album with TV special
VIDEO: Justin Timberlake goes barbershop quartet on Jimmy Fallon
VIDEO: Justin Timberlake guests and performs on Jimmy Fallon
Watch Justin Timberlake's Saturday Night Live promos
Justin Timberlake releases epic new song, Mirrors
VIDEO: Justin Timberlake performs at the Grammys
Justin Timberlake partners with Bud Light Platinum
Justin Timberlake to perform at Grammys
Justin Timberlake releases Suit & Tie lyric video
Justin Timberlake's live return set for Super Bowl weekend
Justin Timberlake: Suit & Tie expecting big opening sales week