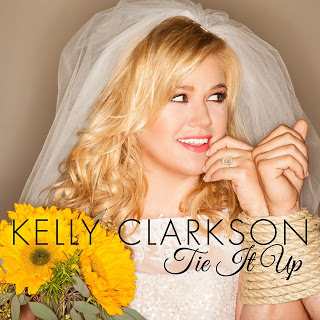 Kelly Clarkson
has released a video for her new country single, "Tie It Up".
The clip for the marriage-themed song features Clarkson playing wedding singer at a lively reception, along with images sent in by fans from their own weddings.
"HUGE thanks to everyone who submitted pics for the video!!!," posted Kelly. "We tried to use as many as possible!"
Clarkson is currently on tour across North America with
Maroon 5
; dates wrap up on the west coast in early October.
Kelly Clarkson
See also:
VIDEO: Kelly Clarkson performs new single Tie It Up
Kelly Clarkson releases People Like Us video
VIDEO: Kelly Clarkson performs on American Idol
Maroon 5 announce summer tour with Kelly Clarkson
Kelly Clarkson tops Forbes list of 2012's top-earning American Idols
Kelly Clarkson shines at Obama Inauguration
Kelly Clarkson visits Nashville children's hospital
Kelly Clarkson performs on The Voice finale
Kelly Clarkson gets engaged
VIDEO: Kelly Clarkson performs Catch My Breath on Ellen
Kelly Clarkson releases video for Catch My Breath
Kelly Clarkson releases lyric video for Catch My Breath
Kelly Clarkson reveals Greatest Hits cover and song list
Kelly Clarkson premieres new single, Catch My Breath
Kelly Clarkson to release greatest hits package next month
Kelly Clarkson releases new Dallas Cowboys anthem
Kelly Clarkson tops the popmusiclife Pop 10
VIDEO: Kelly Clarkson injured on stage in Milwaukee
VIDEO: Kelly Clarkson – Dark Side
VIDEO: Kelly Clarkson rocks Dancing With The Stars finale
Kelly Clarkson signs on for new reality series, Duets
Kelly Clarkson tops US singles chart
VIDEO: Kelly Clarkson sings national anthem at Super Bowl
VIDEO: Behind the scenes with Kelly Clarkson on tour
VIDEO: Kelly Clarkson covers Cee Lo Green, Coldplay
Kelly Clarkson, Nicki Minaj, Bruno Mars & more to perform at Grammys
REPORT: Kelly Clarkson to sing anthem at Super Bowl
VIDEO: Kelly Clarkson rocks Saturday Night Live
TONIGHT: Kelly Clarkson on Saturday Night Live
Kelly Clarkson releases iTunes Session EP
Kelly Clarkson to release live iTunes Session
VIDEO: Kelly Clarkson live at The Troubadour
VIDEO: Kelly Clarkson rocks new single on The X Factor
Kelly Clarkson tops popmusiclife Pop 10 for 2nd week
Kelly Clarkson announces 2012 tour