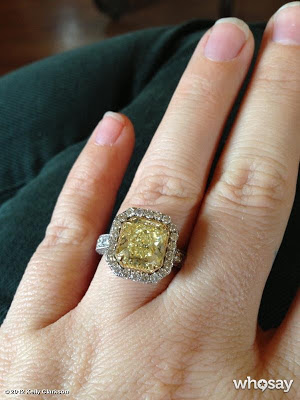 Kelly Clarkson
shared some huge news with fans on Saturday.
"I'M ENGAGED!!!!!," posted Kelly. "I wanted y'all to know!! Happiest night of my life last night! I am so lucky and am with the greatest man ever."
Clarkson's boyfriend,
Brandon Blackstock
, proposed the singer on Friday night; Brandon is country star
Reba McEntire
's stepson.
Kelly also shared a photo of the ring (above).
"Everyone has been asking about my engagement ring, so here it is," she wrote. "It's a yellow canary diamond with diamonds around it and Brandon designed it with
Johnathon Arndt
! They did an amazing job! I can't wait to make Brandon's ring with Johnathon as well!"
On Sunday, Clarkson performed at the 2012 VH1 Divas Concert in Los Angeles, which featured a tribute to the late
Whitney Houston
and
Donna Summer
, who was recently announced as a 2013 inductee into the Rock & Roll Hall Of Fame.
Kelly Clarkson
See also:
VIDEO: Kelly Clarkson performs Catch My Breath on Ellen
Kelly Clarkson releases video for Catch My Breath
Kelly Clarkson releases lyric video for Catch My Breath
Kelly Clarkson reveals Greatest Hits cover and song list
Kelly Clarkson premieres new single, Catch My Breath
Kelly Clarkson to release greatest hits package next month
Kelly Clarkson releases new Dallas Cowboys anthem
Kelly Clarkson tops the popmusiclife Pop 10
VIDEO: Kelly Clarkson injured on stage in Milwaukee
VIDEO: Kelly Clarkson – Dark Side
VIDEO: Kelly Clarkson rocks Dancing With The Stars finale
Kelly Clarkson signs on for new reality series, Duets
Kelly Clarkson tops US singles chart
VIDEO: Kelly Clarkson sings national anthem at Super Bowl
VIDEO: Behind the scenes with Kelly Clarkson on tour
VIDEO: Kelly Clarkson covers Cee Lo Green, Coldplay
Kelly Clarkson, Nicki Minaj, Bruno Mars & more to perform at Grammys
REPORT: Kelly Clarkson to sing anthem at Super Bowl
VIDEO: Kelly Clarkson rocks Saturday Night Live
TONIGHT: Kelly Clarkson on Saturday Night Live
Kelly Clarkson releases iTunes Session EP
Kelly Clarkson to release live iTunes Session
VIDEO: Kelly Clarkson live at The Troubadour
VIDEO: Kelly Clarkson rocks new single on The X Factor
Kelly Clarkson tops popmusiclife Pop 10 for 2nd week
Kelly Clarkson announces 2012 tour