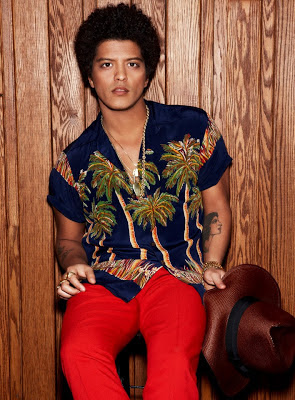 Bruno Mars
tops the
popmusiclife Pop 10
.
This week, Mars released the video for
"Treasure,"
the third single from his latest album,
"Unorthodox Jukebox."
Check out the video and the details in this week's top story!
The
PP10
is a list of the most-viewed pop news stories in the past week by
popmusiclife
readers.
For a full list of the
popmusiclife Pop 10
charts, check out the archives
here
.
Popmusiclife Pop 10
week ending June 23, 2013

01 – Bruno Mars releases Treasure video
02 – VIDEO: Demi Lovato performs at MuchMusic Video Awards
03 – VIDEO: Coldplay rock Jimmy Kimmel's post-Oscars show
04 – Britney Spears releases Ooh La La from Smurfs 2 soundtrack
05 – Did Justin Bieber grope fan at meet & greet?
06 – Adele honored with MBE by Queen Elizabeth II
07 – Rihanna passes Justin Bieber as most-viewed artist on YouTube
08 – VIDEO: Bruno Mars rocks Victoria's Secret Fashion Show
09 – VIDEO: Bruno Mars performs When I Was Your Man on Ellen
10 – Kelly Clarkson gets engaged
See also:
Jun 16: Coldplay
Jun 09: Coldplay
Jun 02: Kesha
May 26: PP10 chart frozen
May 19: Justin Bieber
May 12: Justin Bieber
May 05: Selena Gomez
Apr 28: Demi Lovato
Apr 21: Coldplay
Apr 14: Bruno Mars
Apr 07: Coldplay
Mar 31: Coldplay
Mar 24: Justin Timberlake
Mar 17: Justin Timberlake
Mar 10: Bruno Mars
Mar 03: Bruno Mars
Feb 24: Fergie
Feb 17: Bruno Mars
Feb 10: Bruno Mars
Feb 03: Justin Bieber