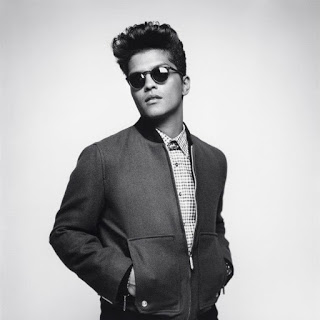 Bruno Mars
has issued the video for
"Treasure,"
the third single from his latest album,
"Unorthodox Jukebox."
The track follows the hits
"Locked Out Of Heaven"
and
"When I Was Your Man."
Co-directed by the singer and
Cameron Duddy
, Mars goes for the full-on retro look in the clip, which features a mirrored disco ball and a vintage music TV show look (think "American Bandstand" or "Soul Train").
"Unorthodox Jukebox"
earned Bruno his first US number 1 album.
Mars will kick off his Moonshine Jungle world tour, in support of the project, on June 22 in Washington, D.C.
Bruno Mars
See also:
Bruno Mars tops the popmusiclife Pop 10
VIDEO: Bruno Mars performs When I Was Your Man on Ellen
Bruno Mars scores first US No. 1 album
VIDEO: Bruno Mars performs on The Jonathan Ross Show
Bruno Mars tops the popmusiclife Pop 10
Bruno Mars announces Moonshine Jungle world tour
Bruno Mars tops the popmusiclife Pop 10 for 2nd week
Bruno Mars teams up with Sting, Rihanna & more at the Grammys
Bruno Mars tops the popmusiclife Pop 10
Bruno Mars tops the popmusiclife Pop 10
Bruno Mars performs on Jimmy Kimmel
Bruno Mars tops popmusiclife Pop 10 for 5th week
Bruno Mars tops popmusiclife Pop 10 for 4th week
Bruno Mars tops popmusiclife Pop 10 for 3rd week
Bruno Mars guests on Season 3 finale of The Voice
Bruno Mars tops the popmusiclife Pop 10 for 2nd week
Bruno Mars launches Unorthodox Jukebox on The Today Show
Bruno Mars tops the popmusiclife Pop 10
VIDEO: Bruno Mars rocks Victoria's Secret Fashion Show
Bruno Mars releases new single – When I Was Your Man
Bruno Mars previews new song – Moonshine
Bruno Mars releases new single – Young Girls
Bruno Mars reveals Unorthodox Jukebox track listing
Bruno Mars reveals Unorthodox Jukebox cover
Bruno Mars releases video for Locked Out Of Heaven
Bruno Mars debuts new single, confirmed to host Saturday Night Live
Kelly Clarkson, Nicki Minaj, Bruno Mars & more to perform at Grammys
VIDEO: Bruno Mars rocks The X Factor