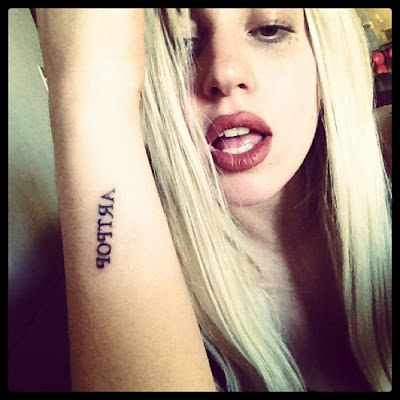 Lady Gaga
has revealed the title of her forthcoming album will be
"ARTPOP."
Initially promising fans, months ago, that the title would be made public in September, the singer initiated the news on Friday when she posted an instagram photo of herself sporting a new tattoo (see above), along with the caption:
"new ink new album."
The singer followed her note up with a photo that read:
"we could we could belong together. ARTPOP."
No reference was made to whether these are song lyrics from the new project, or simply a mission statement.
Gaga further confirmed her plans on Sunday with a clearly written tweet:
"make sure when writing about my new album/project ARTPOP that you CAPITALIZE the title, *its all in the details* good morning twitter!"
The singer debuted a new song during her recent series of concerts in Australia, introducing
"Princess Die"
by saying,
"This song may or may not be on my next album. I wrote it a little while ago and I've never, ever played it for anyone. This song is a little bit sad and it's in no way reflective of the rest of the music on the album."
The pop superstar resumes her Born this Way Ball tour in Sofia, Bulgaria on August 14.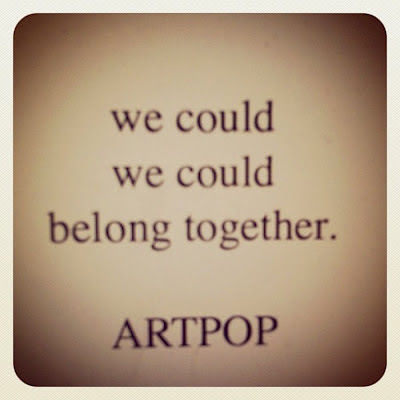 Lady Gaga
See also:
Lady Gaga tops the popmusiclife Pop 10
Cher and Lady Gaga duet due this fall
PHOTO: Lady Gaga reveals new perfume ad
PHOTO: Lady Gaga posts nude picture of herself
Lady Gaga to make acting debut in Machete Kills
Lady Gaga sued by Bratz Doll makers for $10 million
Lady Gaga tops the popmusiclife Pop 10
VIDEO: Lady Gaga shows how her perfume is made
PHOTO: Lady Gaga gets naked in new perfume ad
Lady Gaga can't wait for new No Doubt album
Lady Gaga to offer two versions of Fame perfume
Lady Gaga turned away by Australian club
Lady Gaga tops the popmusiclife Pop 10
VIDEO: Lady Gaga debuts new song in Australia
AUDIO: Rare unreleased Lady Gaga song surfaces online
Lady Gaga concussion update
PHOTOS: Lady Gaga reveals new perfume
PHOTO: Lady Gaga displays black eye after concert concussion
VIDEO: Lady Gaga suffers concussion during New Zealand concert
Lady Gaga cancels Indonesia concert over threats
VIDEO: Lady Gaga sings on The Simpsons