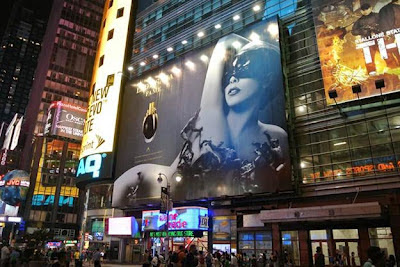 Lady Gaga
's new perfume,
Fame
, will be available next month.
There will be two versions of the fragrance: regular and Le Masterpiece.
Fame is getting a high-visibility boost with a huge billboard in New York City's Times Square.
The image is identical to the brand's first print ad, which features Gaga holding the perfume while stretched out naked, covered only by a black latex mask over her eyes and dozens of little men crawling all over her.
Gaga resumed her Born This Way Ball tour last week; the European leg runs through the first week of October.
photo courtesy of COTY
Lady Gaga
See also:
VIDEO: Lady Gaga releases Monstervision No. 6
Lady Gaga tops the popmusiclife Pop 10
VIDEO: Lady Gaga's bodyguards assault fan
VIDEO: Lady Gaga previews Fame fragrance
VIDEO: Lady Gaga's Vogue cover shoot
Lady Gaga: Born This Way Ball headed to Latin America
Lady Gaga confirms new album title
Lady Gaga tops the popmusiclife Pop 10
Cher and Lady Gaga duet due this fall
PHOTO: Lady Gaga reveals new perfume ad
PHOTO: Lady Gaga posts nude picture of herself
Lady Gaga to make acting debut in Machete Kills
Lady Gaga sued by Bratz Doll makers for $10 million
Lady Gaga tops the popmusiclife Pop 10
VIDEO: Lady Gaga shows how her perfume is made
PHOTO: Lady Gaga gets naked in new perfume ad
Lady Gaga can't wait for new No Doubt album
Lady Gaga to offer two versions of Fame perfume
Lady Gaga turned away by Australian club
Lady Gaga tops the popmusiclife Pop 10
VIDEO: Lady Gaga debuts new song in Australia
AUDIO: Rare unreleased Lady Gaga song surfaces online
Lady Gaga concussion update
PHOTOS: Lady Gaga reveals new perfume
PHOTO: Lady Gaga displays black eye after concert concussion
VIDEO: Lady Gaga suffers concussion during New Zealand concert
Lady Gaga cancels Indonesia concert over threats
VIDEO: Lady Gaga sings on The Simpsons