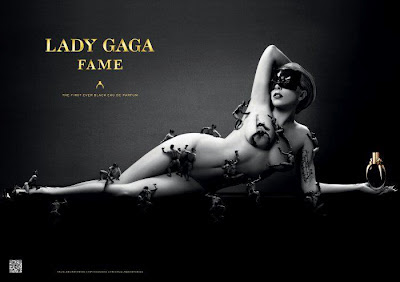 Lady Gaga
is baring it all in the first print ad for her new perfume,
Fame
.
The image features Gaga holding the perfume while stretched out naked, covered only by a black latex mask over her eyes and dozens of little men crawling all over her.
The ad reads: "Lady Gaga. Fame. The First Ever Black Eau de Parfum."
Last week, the pop superstar announced that there will be multiple versions of Fame.
"There are 2 versions of fragrance,"
wrote Gaga.
"One is more affordable. The other is Le Masterpiece, larger bottle, metal cap & eau de parfum. My baby! All my fashion fragrance dreams coming true!"
Gaga also shared some pricing details:
"30 dollars for affordable. Over 70 for Le Masterpiece."
The pop icon just wrapped up a month-long series of concerts in Australia as part of her Born This Way Ball world tour; she launches the European leg August 14 in Sofia, Bulgaria.
Lady Gaga
See also:
Lady Gaga can't wait for new No Doubt album
Lady Gaga to offer two versions of Fame perfume
Lady Gaga turned away by Australian club
Lady Gaga tops the popmusiclife Pop 10
VIDEO: Lady Gaga debuts new song in Australia
AUDIO: Rare unreleased Lady Gaga song surfaces online
Lady Gaga concussion update
PHOTOS: Lady Gaga reveals new perfume
PHOTO: Lady Gaga displays black eye after concert concussion
VIDEO: Lady Gaga suffers concussion during New Zealand concert
Lady Gaga cancels Indonesia concert over threats
VIDEO: Lady Gaga sings on The Simpsons
VIDEO: Lady Gaga on The Simpsons preview
Lady Gaga to appear on season finale of The Simpsons
VIDEO: Lady Gaga launches Born This Way Ball tour in South Korea