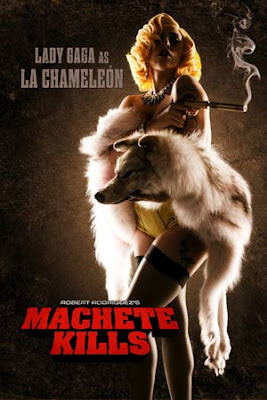 Lady Gaga
will make her acting debut in
"Machete Kills,"
the sequel to the 2010 film
"Machete."
Due in theaters next year, the series is directed by
Robert Rodriguez
, who tweeted about Gaga's involvement in the role of
Lady Chameleon
.
"I just finished working with @LadyGaga on @MacheteKills,"
Rodriguez tweeted.
"She kicked SO MUCH ASS! Holy Smokes. Blown away!"
Gaga also confirmed the new via Twitter, writing,
"Yes its true, I will be making my debut as an actress in the amazing MACHETE KILLS BY @RODRIGUEZ. IM SO EXCITED!!! AH! Filming was insane."
"Machete Kills"
will star
Danny Trejo, Jessica Alba
and
Michelle Rodriguez
all reprising their roles from the first film, along with newcomers to the series,
Vanessa Hudgens, Mel Gibson, Demián Bichir, Alexa Vega, Zoe Saldana, Amber Heard, Charlie Sheen
and
Gaga
.
The new flick is the second film in the Machete trilogy; a poster featuring Gaga in character has been made public
Gaga, who is currently on a break from her Born This Way Ball world tour, will return to live action when she launches the European leg in Sofia, Bulgaria on August 14.
Lady Gaga
See also:
Lady Gaga sued by Bratz Doll makers for $10 million
Lady Gaga tops the popmusiclife Pop 10
VIDEO: Lady Gaga shows how her perfume is made
PHOTO: Lady Gaga gets naked in new perfume ad
Lady Gaga can't wait for new No Doubt album
Lady Gaga to offer two versions of Fame perfume
Lady Gaga turned away by Australian club
Lady Gaga tops the popmusiclife Pop 10
VIDEO: Lady Gaga debuts new song in Australia
AUDIO: Rare unreleased Lady Gaga song surfaces online
Lady Gaga concussion update
PHOTOS: Lady Gaga reveals new perfume
PHOTO: Lady Gaga displays black eye after concert concussion
VIDEO: Lady Gaga suffers concussion during New Zealand concert
Lady Gaga cancels Indonesia concert over threats
VIDEO: Lady Gaga sings on The Simpsons
VIDEO: Lady Gaga on The Simpsons preview
Lady Gaga to appear on season finale of The Simpsons
VIDEO: Lady Gaga launches Born This Way Ball tour in South Korea