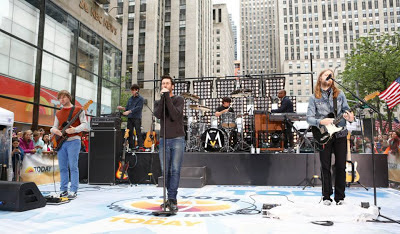 Maroon 5
stopped by
NBC's Today Show
Friday morning to perform and promote their upcoming summer tour.
The band played three songs from their current album,
"Overexposed,"
including the hits
"One More Night," "Payphone,"
and the new single,
"Love Somebody."
Maroon 5
singer
Adam Levine
wraps up his coaching duties on
NBC's The Voice
with the two-part season finale coming up next week.
On June 22, Levine and
Maroon 5
will launch a UK tour in Birmingham, before returning to North America for a series of summer shows with
Kelly Clarkson
that start August 1 in St. Louis.
Maroon 5
See also:
Maroon 5 release video for Love Somebody
The Voice announces return of Christina Aguilera & Cee Lo Green
Maroon 5 announce summer tour with Kelly Clarkson
Maroon 5's Adam Levine to host Saturday Night Live
Maroon 5 release fan-sourced video for Daylight
VIDEO: Maroon 5 rock Saturday Night Live
Maroon 5 announce North American tour
VIDEO: Maroon 5 – One More Night
VIDEO: Maroon 5 and Wiz Khalifa rock The Voice
The Hunger Games soundtrack debuts at US #1
Maroon 5's Adam Levine starts own record label
People's Choice Awards: Maroon 5 named Favorite Band
VIDEO: The Voice returns with Christina Aguilera, Cee Lo Green and more
VIDEO: Demi Lovato covers Moves Like Jagger
VIDEO: Maroon 5 rock SNL