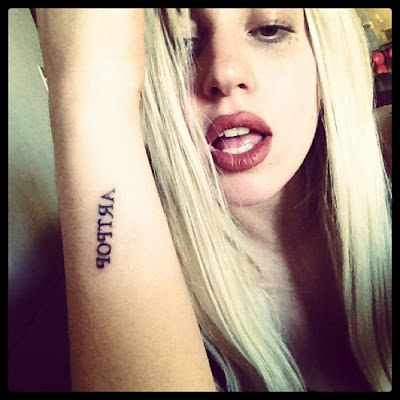 Lady Gaga
has revealed her ambitious and cutting-edge plans for the release of her forthcoming album,
"ARTPOP."
"I'm excited to tell you all that ARTPOP is going to be a multimedia experience that comes in different forms,"
wrote Gaga on her social media site, LittleMonsters.com.
"The most major way to fully immerse yourself in ARTPOP is through the APP. ARTPOP will be released as an IPAD, iPhone, mobile and computer compatible application (WORLD) that is completely interactive with chats, films for every song, extra music, content, gaga inspired games, fashion updates, magazines, and more still in the works!"

"I will also be able to upload new things to the APP all the time, the same way i upload to twitter and LM.com,"
she explained.
"You inspired me to create something that communicated with images, because YOU do, YOU communicate with me and each other with .gifs and pictures, and artwork, graphics ALL DAY 24/7/ YOU'RE an ARTPOP generation. Im hoping you will all continue to grow together and stay connected through your creativity. much love. love, gaga p.s (start asking for IPADS FOR XMAS!!) its gonna be so fun. but dont worry. it will also be released in the regular physical and digitals which will be unique and different to the app."
"ARTPOP"
is expected in early 2013.
This week, Gaga announced dates for the 2013 North American leg of her Born This Way Ball tour, which features 26 shows across the continent beginning January 11 in Vancouver. For a list of tour dates, click
here
.
Lady Gaga
See also:
Lady Gaga announces 2013 North American tour
Lady Gaga shares high school photo of herself
Lady Gaga's Fame is No. 1 fragrance in the U.S.
Lady Gaga tops the popmusiclife Pop 10 for 2nd week
VIDEO: Lady Gaga releases Monstervision No. 6
Lady Gaga tops the popmusiclife Pop 10
VIDEO: Lady Gaga's bodyguards assault fan
VIDEO: Lady Gaga previews Fame fragrance
VIDEO: Lady Gaga's Vogue cover shoot
Lady Gaga: Born This Way Ball headed to Latin America
Lady Gaga confirms new album title
Lady Gaga tops the popmusiclife Pop 10
Cher and Lady Gaga duet due this fall
PHOTO: Lady Gaga reveals new perfume ad
PHOTO: Lady Gaga posts nude picture of herself
Lady Gaga to make acting debut in Machete Kills
Lady Gaga sued by Bratz Doll makers for $10 million
Lady Gaga tops the popmusiclife Pop 10
VIDEO: Lady Gaga shows how her perfume is made
PHOTO: Lady Gaga gets naked in new perfume ad
Lady Gaga can't wait for new No Doubt album
Lady Gaga to offer two versions of Fame perfume
Lady Gaga turned away by Australian club
Lady Gaga tops the popmusiclife Pop 10
VIDEO: Lady Gaga debuts new song in Australia
AUDIO: Rare unreleased Lady Gaga song surfaces online
Lady Gaga concussion update
PHOTOS: Lady Gaga reveals new perfume
PHOTO: Lady Gaga displays black eye after concert concussion
VIDEO: Lady Gaga suffers concussion during New Zealand concert
Lady Gaga cancels Indonesia concert over threats
VIDEO: Lady Gaga sings on The Simpsons