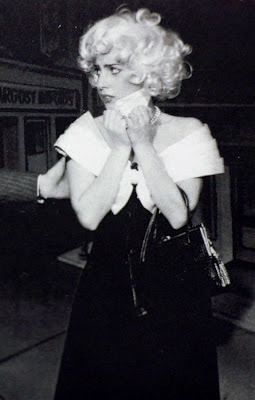 Lady Gaga
continues to share a great deal of herself of her social media site LittleMonsters.com.
This week, the pop superstar posted a photo of herself in high school, before later sending it out via Twitter.
"Some things never change,"
tweeted Gaga.
"Here's a photo of me in highschool in the school play (set that wig + did my own makeup!)"
The black and white photo shows Gaga in a blonde wig looking a little like
Marilyn Monroe
.
Gaga attended the Convent of the Sacred Heart, a private all-girls Roman Catholic school on Manhattan's Upper East Side. She performed lead roles in high school productions, including Adelaide in
Guys and Dolls
and Philia in
A Funny Thing Happened On The Way To The Forum
.
Gaga is currently performing shows across Europe as part of her Born This Way Ball tour.
Lady Gaga
See also:
Lady Gaga's Fame is No. 1 fragrance in the U.S.
Lady Gaga tops the popmusiclife Pop 10 for 2nd week
VIDEO: Lady Gaga releases Monstervision No. 6
Lady Gaga tops the popmusiclife Pop 10
VIDEO: Lady Gaga's bodyguards assault fan
VIDEO: Lady Gaga previews Fame fragrance
VIDEO: Lady Gaga's Vogue cover shoot
Lady Gaga: Born This Way Ball headed to Latin America
Lady Gaga confirms new album title
Lady Gaga tops the popmusiclife Pop 10
Cher and Lady Gaga duet due this fall
PHOTO: Lady Gaga reveals new perfume ad
PHOTO: Lady Gaga posts nude picture of herself
Lady Gaga to make acting debut in Machete Kills
Lady Gaga sued by Bratz Doll makers for $10 million
Lady Gaga tops the popmusiclife Pop 10
VIDEO: Lady Gaga shows how her perfume is made
PHOTO: Lady Gaga gets naked in new perfume ad
Lady Gaga can't wait for new No Doubt album
Lady Gaga to offer two versions of Fame perfume
Lady Gaga turned away by Australian club
Lady Gaga tops the popmusiclife Pop 10
VIDEO: Lady Gaga debuts new song in Australia
AUDIO: Rare unreleased Lady Gaga song surfaces online
Lady Gaga concussion update
PHOTOS: Lady Gaga reveals new perfume
PHOTO: Lady Gaga displays black eye after concert concussion
VIDEO: Lady Gaga suffers concussion during New Zealand concert
Lady Gaga cancels Indonesia concert over threats
VIDEO: Lady Gaga sings on The Simpsons