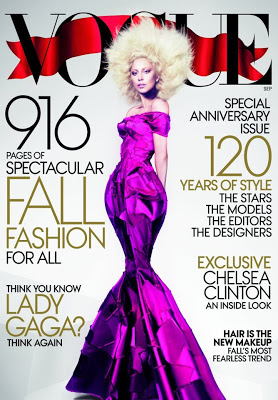 Lady Gaga
is featured on the cover of the September issue of Vogue.
This week, the pop superstar shared the cover online, giving fans their first look at the singer dressed in a gown by
Marc Jacobs
.
The cover was shot by fashion photographers
Mert & Marcus
, with styling by
Grace Coddington
.
Now, Vogue is sharing a behind the scenes look at the photo shoot for the cover and inside story images, which features Gaga in a variety of outfits.
Currently on a month-long break from the road, Gaga will resumes her Born this Way Ball tour in Sofia, Bulgaria on Tuesday.
See also:
Lady Gaga: Born This Way Ball headed to Latin America
Lady Gaga confirms new album title
Lady Gaga tops the popmusiclife Pop 10
Cher and Lady Gaga duet due this fall
PHOTO: Lady Gaga reveals new perfume ad
PHOTO: Lady Gaga posts nude picture of herself
Lady Gaga to make acting debut in Machete Kills
Lady Gaga sued by Bratz Doll makers for $10 million
Lady Gaga tops the popmusiclife Pop 10
VIDEO: Lady Gaga shows how her perfume is made
PHOTO: Lady Gaga gets naked in new perfume ad
Lady Gaga can't wait for new No Doubt album
Lady Gaga to offer two versions of Fame perfume
Lady Gaga turned away by Australian club
Lady Gaga tops the popmusiclife Pop 10
VIDEO: Lady Gaga debuts new song in Australia
AUDIO: Rare unreleased Lady Gaga song surfaces online
Lady Gaga concussion update
PHOTOS: Lady Gaga reveals new perfume
PHOTO: Lady Gaga displays black eye after concert concussion
VIDEO: Lady Gaga suffers concussion during New Zealand concert
Lady Gaga cancels Indonesia concert over threats
VIDEO: Lady Gaga sings on The Simpsons