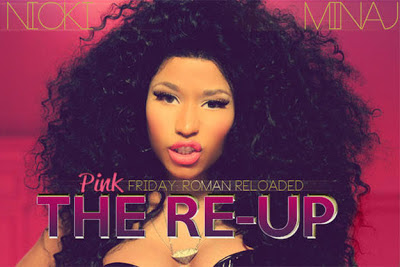 Nicki Minaj
took to twitter Thursday morning to reveal the album cover for
"Pink Friday: Roman Reloaded - THE RE-UP"
.
Last month, the singer released
"The Boys ft. Cassie,"
the lead track from the forthcoming album reissue of her spring 2012 project of the same name.
Due November 19, the reissue is expected to have five to eight new tracks including one featuring Lil Wayne
Minaj has been making headlines lately in her role as a new judge on American Idol. Currently on the road filming singer auditions, the show returns for its new season in January.
Nicki Minaj
See also:
Mariah Carey hires extra security after Nicki Minaj incident
Nicki Minaj & Keith Urban announced as new American Idol judges
Nicki Minaj releases The Boys ft Cassie
RUMOR: Nicki Minaj joining American Idol
Nicki Minaj cancels UK dates due to vocal injury
VIDEO: Nicki Minaj rocks Today show
VIDEO: Nicki Minaj and Big Sean sell running shoes
VIDEO: Nicki Minaj – Pound The Alarm
VIDEO: Nicki Minaj rocks The Tonight Show
VIDEO: Nicki Minaj ft. Chris Brown – Right By My Side
Nicki Minaj announces summer tour
VIDEO: Nicki Minaj – Starships
VIDEO: Nicki Minaj performs on American Idol
VIDEO: Madonna kisses Nicki Minaj on her birthday
VIDEO: Nicki Minaj – Stupid Hoe
Kelly Clarkson, Nicki Minaj, Bruno Mars & more to perform at Grammys
VIDEO: Nicki Minaj rocks New Year's Eve
VIDEO: Willow Smith & Nicki Minaj - Fireball video preview
Nicki Minaj named Billboard's 2011 Rising Star