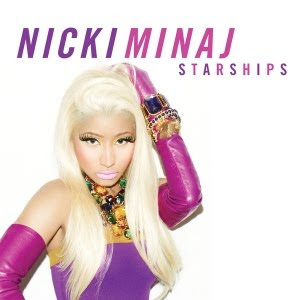 Nicki Minaj
dropped by American Idol Thursday night to perform a new track from her
"Pink Friday: Roman Reloaded"
album, due out next week.
Minaj was front and center for the single
"Starships,"
which was released on Val;entine's Day and debuted at number 9 on the Billboard Hot 100, marking her second solo arrival in the Top 10 of the chart, after
"Super Bass"
, which reached number 3 in 2011
Nicki appeared to be lip-syncing parts of the song to the backing track; watch the video closely to see the microphone away from her face without any change in the singing levels.
Last month, Minaj called
"Starships"
"one of my absolute, absolute favorite records on Pink Friday: Roman Reloaded. It just sounds like a

Ryan Seacrest

-type of record. And I'm so excited for you to give this song your blessing, Ryan, because I know people are gonna love it. It feels right. It just feels good. It makes people feel happy and that's all I want. I want to start the year off with making people feel good. The [Grammy] performance was the performance, that was my clear craziness, and now it's time to make people dance and have fun, and that's all I want to do."
Nicki Minaj
Nicki Minaj –

Starships
American Idol – March 29, 2012
See also:
VIDEO: Madonna kisses Nicki Minaj on her birthday
VIDEO: Nicki Minaj – Stupid Hoe
Kelly Clarkson, Nicki Minaj, Bruno Mars & more to perform at Grammys
VIDEO: Nicki Minaj rocks New Year's Eve
VIDEO: Willow Smith & Nicki Minaj - Fireball video preview
Nicki Minaj named Billboard's 2011 Rising Star
Nicki Minaj announces new album for 2012