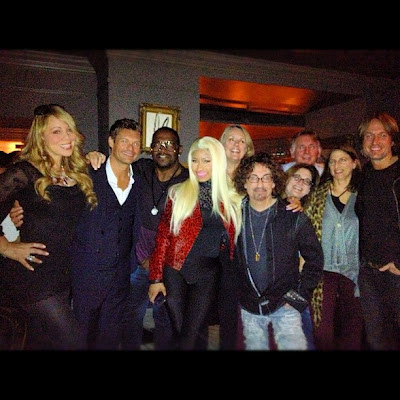 American Idol has announced the addition of
Nicki Minaj
and
Keith Urban
to the judging panel for Season 12.
The two join
Mariah Carey
and longtime Idol judge
Randy Jackson
when the series returns in January.
Host
Ryan Seacrest
tweeted the news Sunday, posting a photo of the gang (see above) and writing "It's official, your new #IdolJudges are @MariahCarey, @NickiMinaj, @KeithUrban & @Yo_RandyJackson!"
Minaj joined in as well, tweeting, "New York auditions today & tomorrow! See ya there barbz!!!!!!!!!"
The four began their new Idol journey together Sunday in New York; other audition cities include Los Angeles, Chicago, Charlotte, San Antonio, Baton Rouge and Oklahoma City.
Known for her unique performance style and iconic fashion, Minaj became the first female solo artist to have seven singles simultaneously on the Billboard Hot 100 chart.
Minaj released her second studio album,
"Pink Friday: Roman Reloaded,"
in April 2012, which topped charts internationally, and spawned the Top 10 singles
"Starships"
and
"Pound the Alarm."
Since then, the album has sold one million copies worldwide, and has become one of the best-selling albums of 2012, according to Nielsen SoundScan. At the 2012 MTV Video Music Awards, she won Best Female Video for
"Starships."
At the 2011 MTV Video Music Awards, she won Best Hip-Hop Video for
"Super Bass."
Nominated for a 2012 Grammy Award in the category of Best New Artist, Minaj's rapping technique has been hailed by critics for its use of alter-egos, accents (notably, British) and rapid-fire pace. Equally well-known for her unique sense of style, her use of colorful wigs and outlandish costumes ranks her as one of the world's leading fashion icons. Minaj is in the midst of her Pink Friday: RELOADED Tour.
Urban, one of country music's biggest stars of the decade, has four Grammy Awards and 14 No. 1 hits, and was named Male Vocal Artist of the Year three times, as well as Entertainer of the Year, by the Country Music Association.
Nicki Minaj
See also:
Nicki Minaj releases The Boys ft Cassie
RUMOR: Nicki Minaj joining American Idol
Nicki Minaj cancels UK dates due to vocal injury
VIDEO: Nicki Minaj rocks Today show
VIDEO: Nicki Minaj and Big Sean sell running shoes
VIDEO: Nicki Minaj – Pound The Alarm
VIDEO: Nicki Minaj rocks The Tonight Show
VIDEO: Nicki Minaj ft. Chris Brown – Right By My Side
Nicki Minaj announces summer tour
VIDEO: Nicki Minaj – Starships
VIDEO: Nicki Minaj performs on American Idol
VIDEO: Madonna kisses Nicki Minaj on her birthday
VIDEO: Nicki Minaj – Stupid Hoe
Kelly Clarkson, Nicki Minaj, Bruno Mars & more to perform at Grammys
VIDEO: Nicki Minaj rocks New Year's Eve
VIDEO: Willow Smith & Nicki Minaj - Fireball video preview
Nicki Minaj named Billboard's 2011 Rising Star