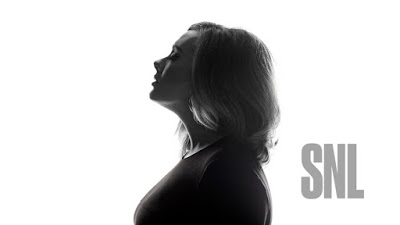 Adele
performed a pair of tunes from her newly-released album
"25"
on NBC's Saturday Night Live over the weekend.
The singer's first US television appearance in support of the project saw the UK singer deliver her smash hit
"Hello"
and the new single
"When We Were Young."
"Hello"
was also featured in a Thanksgiving skit early in the broadcast.
Variety
reports
Adele
's visit on SNL with host
Matthew McConaughey
earned the late night program its second highest overnight rating of the past 10 months — behind only the November 7 telecast featuring
Donald Trump
— and stood as the evening's top-rated program.
According to Nielsen, Saturday Night Live averaged a 4.6 household rating/12 share in the 56 metered markets, up 15% from the prior week's 4.0/10 for an episode hosted by
Elizabeth Banks
.
In the past year, the only two episodes to have rated higher in the overnights was the Trump episode earlier this month (6.6/16) and the Jan. 24 show featuring "The Voice" judge
Blake Shelton
as host and musical guest (4.7/12).
Up next,
Adele
will perform on The Tonight Show starring Jimmy Fallon on Monday, November 23
.
See also:
Adele: 25 sells almost 1 million via US iTunes on opening day
Adele to perform on The Tonight Show
VIDEO: Adele debuts new songs at Radio City Music Hall
Adele premieres When We Were Young video
Search Adele at popmusiclife